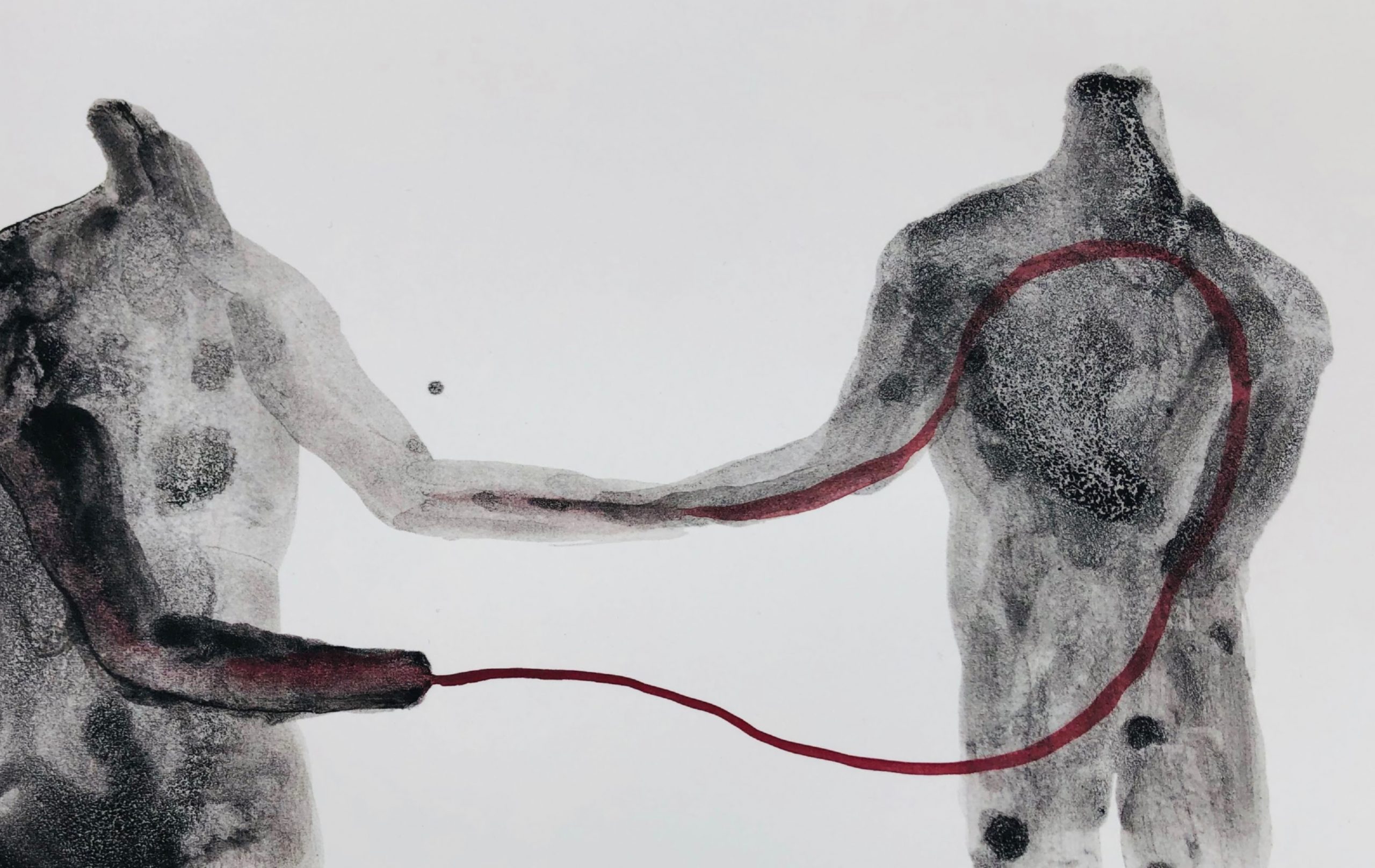 Sharon Kelly – Braced
Exhibition
Exhibition dates: September 23 – 7 October 2022
Private View: Thursday, September 22, 6 – 9 pm
We are thrilled to be hosting Sharon Kelly's first London solo exhibition entitled Braced.
Whilst Sharon's practice encompasses several media – drawing, painting, sculpture and video – her investigations are consistently looking at the female body, its uses, burdens as well as the pain of loss through her experiences.  Throughout a woman's' life she must brace herself for what is to come. With each landmark stage comes physical, emotional, sociological changes that women are often unprepared for. In this post #METOO environment the territory of the female body is still under threat in far too many ways, be it on the pavement walking home, in the workplace, or even at home.  We currently have the unfathomable reversal of laws that formerly protected women and the right over their bodies.  Globally, the plight of women and the default conditions are still far from liberated and secure.
Braced is a perfect word for the female condition as we invariable are required to support and often must have support and must brace ourselves for the unavoidable assaults and insistent challenges and tensions.  Sharon's work invites us to see how women universally must brace themselves for the lives we lead – an often undeserving position that insists – upon our bodies, upon our status, that the fight starts with our biology, and we are forced to brace ourselves for all we must navigate to survive let alone thrive. Having 'discovered' Sharon's practice through her application to our Solo Residency programme we knew that this body of work deserved a wider audience and was certainly worthy of a solo exhibition.  Sharon's works speak to all the complexities, of suppression, pain, as well as loss but somehow there is space that allows for reflections of empowerment, resilience and a path towards further liberation – finally.
 – Curated by Stacie McCormick
About Sharon Kelly.
Kelly's practice has taken intersections between art, life, and sport, exploring ideas of bodily interiority, emotional states, and mind / body synergy in various media and processes including drawing, painting, installation, print, sculpture and video. Her work deals with notions of resilience, liminality and transformation.  The body has been the centre point for exploring issues of lived experience, bodily interiority, fragility, endurance and the resilience of mind-body with particular reference to illness and loss. Dublin-based, art historian Dr Kate Antosik- Parsons, wrote that her work 'poses the fundamental questions about the experiences of the body in relation to the larger meanings of life' [1].
In her work Kelly has explored the parallels between art and sport. In 2018 her project Mind Fuel interrogated the mind-body synergy and ideas of resilience investigating the nature and challenge of endurance running. In 2022 she undertook a Creative Residency in Sport & Art for Dublin City Council Culture Company, working with female boxers and their coaches in Corinthians Boxing Club, North Dublin.
In 2017 she collaborated with Maiden Voyage Dance Company, Belfast, developing ideas and visuals for Landscapes of Loss, a multimedia dance production for the MAC, exploring the territory of grief over time.
In 2022 she was the recipient of The Pollock-Krasner Foundation Grant, New York, USA and in 2020 she was awarded the Arts Council of Northern Ireland Fellowship at The British School at Rome.  She has been the recipient of numerous Visual Arts Awards from the Arts Council of Northern Ireland; The Rowel Friers Perpetual Trophy, Royal Ulster Academy of Art; The Drawing Prize 132nd Royal Academy Exhibition, 2013; The Bass Ireland Award 2001; British Council Award 1999; EV+A Open Award, Adjudicator, Jan Hoet, Belgium 1994; First Prize, 'Siolru', RHA Gallagher Gallery, Dublin 1994; Alice Berger-Hammerschlag Trust Travel Award 1991; The Elizabeth Greenshield Foundation, Canada 1990.
Kelly gained a BA (Hons) Fine Art 1986 and MA Fine Art 1989 from University of Ulster, Belfast. Her work has been exhibited nationally and internationally since 1990 and is held in public and private collections in Ireland and further afield. 
Born Wiltshire, 1960
Moved to Northern Ireland 1983
Lives and works in Belfast – studio is QSS Artists Studios, Belfast.
[1] From her catalogue essay for Resting Pressure: A Survey Exhibition of Work by Sharon Kelly, FE McWilliam Gallery and Museum, 5th Mar – 28th May 2022, curated by Dr Riann Coulter.
About Unit 1 Gallery | Workshop and the Workshop Foundation:
Unit 1 Gallery | Workshop is an exhibition and residency space in London and unique in its approach to bringing artists and their practices to the public. They support a diverse range of emerging and mid-career contemporary artists by providing them with space and time to develop their practice, network within our growing community, be mentored by team members and crucially be introduced to their expansive network of collectors, art educators, professionals and visitors.
Through their residency programmes and exhibitions, they give artists, curators and theorists a platform to present work and share ideas as well as creating an environment for freethinking and exchange.
They have now organised more than 40 exhibitions with over 120 artists and curators, with 10 exhibitions and 25 artists in residence a year, drawing in international audiences and participants, as well as being a local landmark in the community of Kensington and Chelsea and its surrounds.
Unit 1 Gallery | Workshop was founded in 2015 by artist Stacie McCormick in a former builder's merchant.
DETAILS
Title: Braced
Artist: Sharon Kelly
Exhibition: September 23 – 7 October 2022
Opening: Thursday, September 22, 6 – 9 pm
Contact: +44 (0)75 4831 5800 | info@unit1gallery-workshop.com
Website: www.unit1gallery-workshop.com
Instagram: @unit1galleryworkshop
Twitter: @Unit1_Gallery
Facebook: @unit1galleryworkshop
#unit1galleryworkshop
Fair Art Fair, a new app-based digital platform that facilitates relationships between everyone interested in Art in a confident transparent environment. Whoever you Art you will find a place to explore and discover, buy and sell, organise and document, communicate and be supported. Download the app here.
⁠