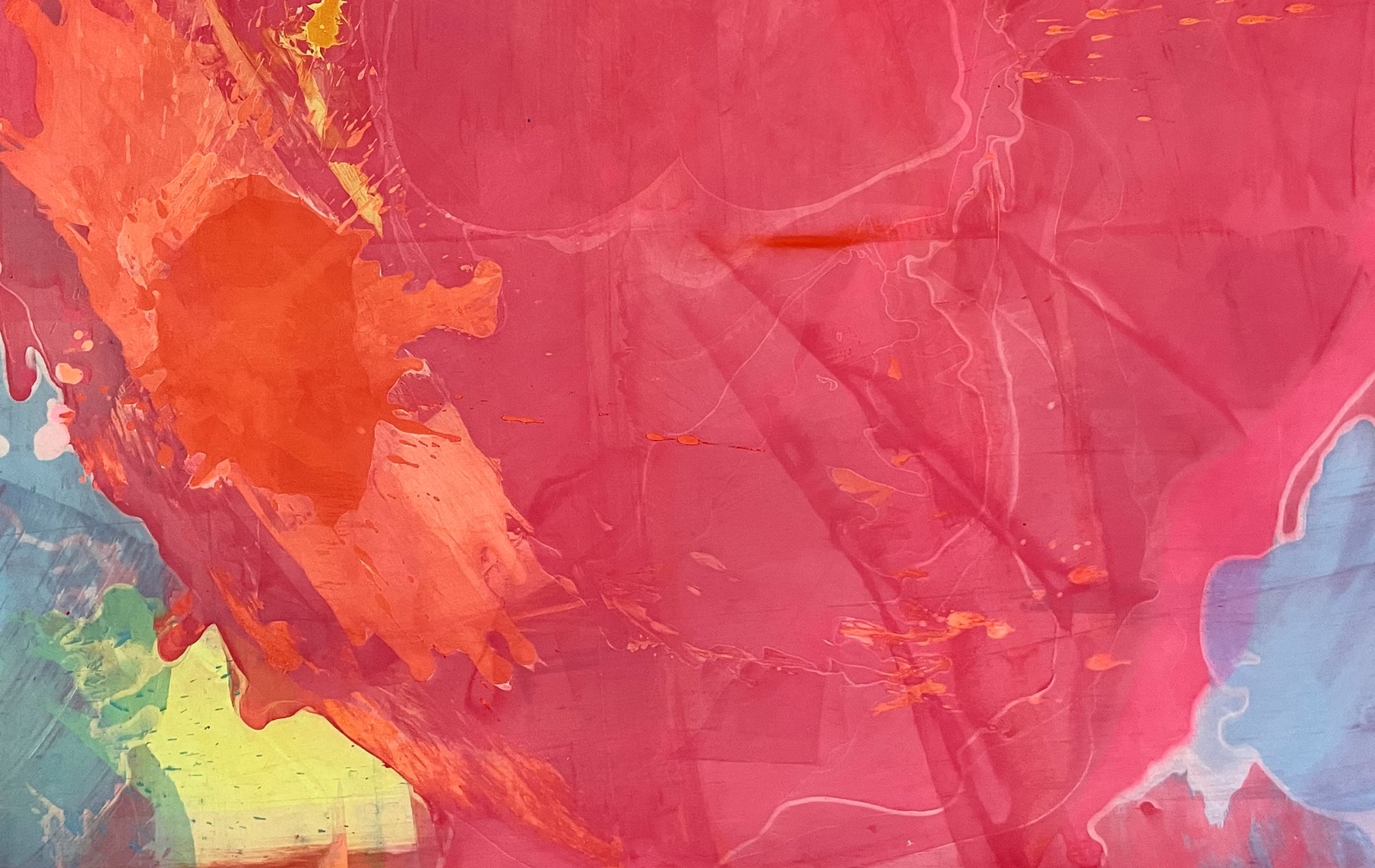 Colour
Exhibition
Exhibition dates: 17 February – 19 March 2022
Private View: 16 February
Unit 1 Gallery | Workshop is proud to present "Colour", the first solo exhibition in the space of director Stacie McCormick curated by Maria Korolevskaya, an exhibition of paintings created during lockdown.  Stacie McCormick gave herself permission to experiment wildly with colour with in her practice of gestural abstractions.  These works on paper will be presented in an exciting installation format as selected & designed by Maria Korolevskaya and Stacie McCormick.  After many years focusing on monochrome paintings, the pandemic presented a desire to paint joyful works as an antidote to the dark times.
Curator Maria Korolevskaya
"In 2019, Stacie McCormick made an informed decision to return to colour, to set herself free and to explore colour in a more radical, transformative way.  The artist's practice involved a specific focus on monochrome paintings.  Whilst doing her masters degree, Stacie McCormick questioned her artistic direction, which at the time favoured colour and density. She wanted her work to say as much as possible with as little as possible, to be poetic and powerful. Hence, the artist reduced her palette in favour of one to two colours, monochrome tones and forms.
At the beginning of the first lockdown, in March 2020, the artist was given the freedom to re-envision her work.  Stacie McCormick found herself alone and had the studio and the gallery to herself as well as the time to explore her work radically unobserved.  Stacie had the opportunity to question the colours she used. Stacie felt instinctively drawn to more vibrant, joyful and richer colours. Her past monochrome practice felt too sombre and she wanted to create a radical partaking, a complete contrast to her previous work. Although, Helen Frankenthaler has always been one of the biggest inspirations for Stacie McCormick's in her artistic journey. This exploration of bright and vibrant colours was healing and therapeutic for the artist during these vulnerable times, this need and resulting curative nature of Stacie's experience is academically investigated. 
Individual aesthetic perceptions and judgements are mostly dependent on the accrual of knowledge and experiences. To discuss the importance of colour in artistic expression from a more scientific perspective, it is important to become familiar with Palmer and Schloss's Ecological Valence Theory of human colour preference that was developed in 2010. This theory reveals that aesthetic preferences from certain colours are greater than others. In brief, it suggests that colour preferences usually arise from an individual's affective responses to colour-associated items. As an illustration, blue may be preferred by various individuals because in the perceiver's mind it is associated with clean sky and water. It may seem that certain colour preferences are universal, who doesn't like clean blue sky and bright orange sun? However, this concept is deeper than that, as each individual is unique. Each person's preference for a particular colour is determined largely by his/her distinctive preferences for correspondingly coloured objects, which are in turn affected by personal experiences and cognitions. Therefore, this exhibition is a wonderful opportunity to observe and experience firsthand how exactly the artist's mind affects her artistic developments and vision. It will allow you to propose an answer to the question that the artist was asking herself during this period of personal and creative search. This show invites the viewer to observe, get lost and explore this colourful labyrinth.
About Maria Korolevskaya is an art entrepreneur, young collector, and philanthropist. She is a co-founder of The Art Partners, a collection management company which was created to fulfil the needs of emerging and established art collectors in 2015. A passion for art and a desire to spend more time with artists inspired Maria to establish an artist residency in Rapallo, Italy together with her business partner Anastasia Petrovskaia (Untapped Residency, 2017). Maria has a degree in Art Criticism from Moscow State University (MSU), MA in International Business (EBS). She also studied Art Business and Art Marketing at Sotheby's Institute of Art in London and New York, endorsing it with working experience at Christie's in London. She has over 5 years of experience in developing contemporary collections and organising art exhibitions in Europe and London.
About Unit 1 Gallery | Workshop and the Workshop Foundation:
Unit 1 Gallery | Workshop is an exhibition and residency space in London and unique in its approach to bringing artists and their practices to the public. They support a diverse range of emerging and mid-career contemporary artists by providing them with space and time to develop their practice, network within our growing community, be mentored by team members and crucially be introduced to their expansive network of collectors, art educators, professionals and visitors.
Through their residency programmes and exhibitions, they give artists, curators and theorists a platform to present work and share ideas as well as creating an environment for freethinking and exchange.
They have now organised more than 40 exhibitions with over 120 artists and curators, with 10 exhibitions and 25 artists in residence a year, drawing in international audiences and participants, as well as being a local landmark in the community of Kensington and Chelsea and its surrounds.
Unit 1 Gallery | Workshop was founded in 2015 by artist Stacie McCormick in a former builder's merchant.
DETAILS
Title: Colour – Stacie McCormick
Artist: – Stacie McCormick
Exhibition: 17th February – 19 March
Opening: Wednesday 16th February 6-9pm
Contact: +44 (0)75 4831 5800 | info@unit1gallery-workshop.com
Website: www.unit1gallery-workshop.com
Instagram: @unit1galleryworkshop
Twitter: @Unit1_Gallery
Facebook: @unit1galleryworkshop
#unit1galleryworkshop
Fair Art Fair, a new app-based digital platform that facilitates relationships between everyone interested in Art in a confident transparent environment. Whoever you Art you will find a place to explore and discover, buy and sell, organise and document, communicate and be supported. Download the app here.
⁠