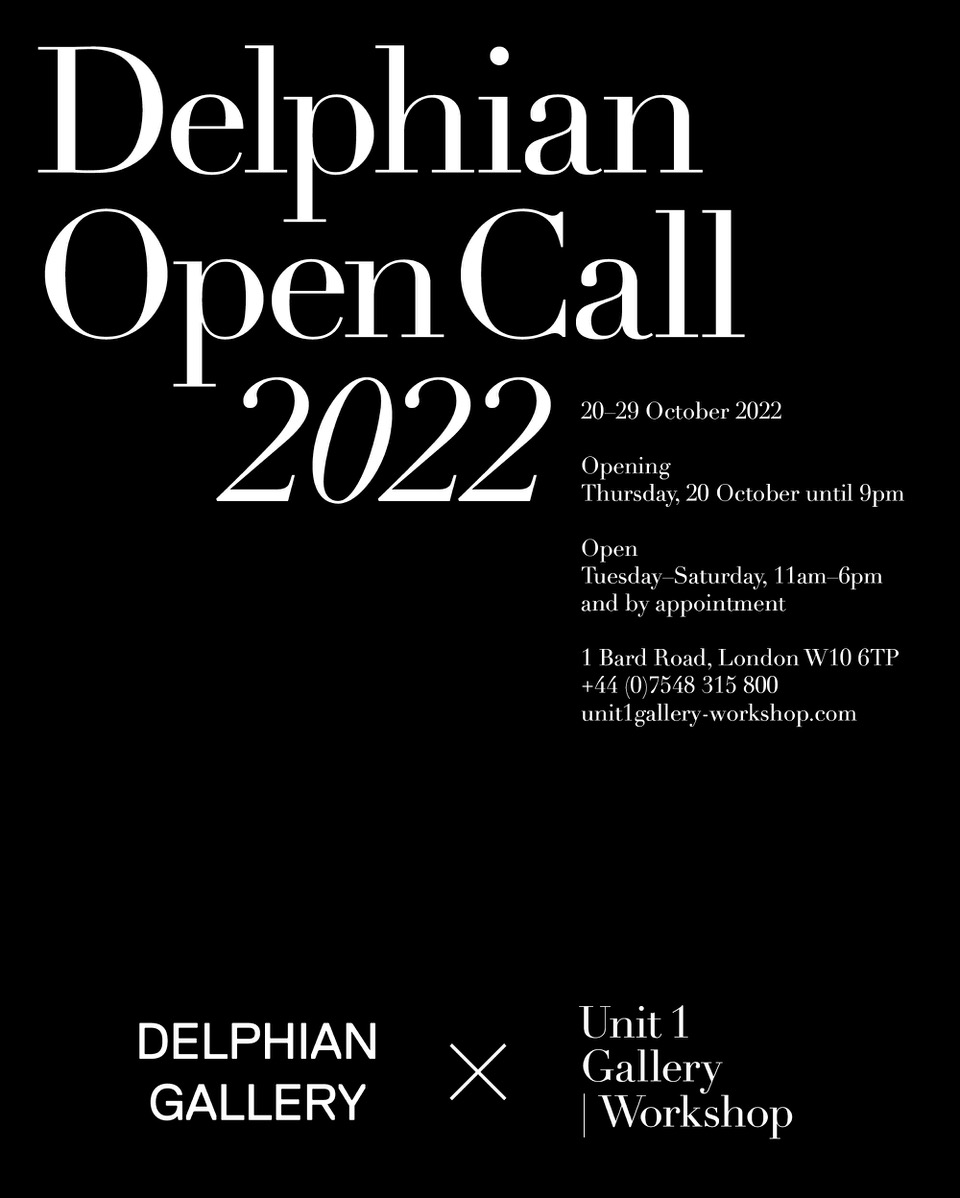 Delphian Open Call
Exhibition dates: 20th – 29th October 2022
Too many open calls are a way for galleries to make some revenue from hopeful early career artists that they use to fund some less-successful events in their programme.
This is not one of those open calls.
The Delphian Open Call is a show that we are guaranteed to lose money on each year, because as well as covering all of the costs, we also don't take a percentage of the profits from sold works. It has always been free to enter, and always will be. 
We have been very fortunate to be partnering with the incredible Unit 1 Gallery | Workshop for this year's iteration of the Open Call, who have also committed to foregoing any percentage of the profits. This promises to be the biggest and most exciting iteration of the open call yet.
Artists anywhere in the world could enter the open call with just a few clicks, and there were no entrance fees or long forms to fill in. Once the winners were selected, the artists didn't have to worry about the expensive and stressful task of shipping and insuring their works, which is usually yet another barrier to entry that disadvantages early-career artists. 
Every year we are blown away by how many artists are keen to submit and show us their work, and the sheer amount of amazing submissions makes the task of selecting the show incredibly difficult. This year there are 42 artists in the winners exhibition, but that number could have easily been trebled or quadrupled due to the quality of work that was submitted.
Unit 1 Gallery | Workshop is a gallery with the support of the artists at its core, and so the similarities in approach between us and them meant that us working together at some point was all but inevitable. The entire ground-floor space will be taken over for two weeks to present this diverse group of artists during a time when artists need support now more than ever. Every artist has the opportunity to release their work as a print, which will be available for one month and no more. Both Delphian and Unit 1 Gallery | Workshop have declined to take a share of the profits from this show, as artists have had a tumultuous time over the last 18 months, and both galleries believe that when one is in a position to help, they should.
As well as being hosted in the physical West-London gallery space, Unit 1 Gallery | Workshop's exciting new venture Fair Art Fair will also host the show digitally for any that can't make it to London to see the show.
Delphian Gallery
Delphian Gallery, the artist-run, nomadic gallery and arts platform was launched back in 2017 by Benjamin Murphy and Nick JS Thompson. Primarily London-based, their joint passion is to discover and show the most captivating and challenging work by emerging and early-career contemporary artists. 
Past exhibitions have included sell-out solo shows from Igor Moritz, Florence Hutchings, Jordy Kerwick and Bertrand Fournier, as well as large-scale solo and group exhibitions including Antisocial Isolation at The Saatchi Gallery. As well as the gallery, Delphian also released their debut book Navigating The Art World: Professional Practice For The Early Career Artist, which is now available at the Tate, Royal Academy, and Saatchi Gallery bookshops, as well as from Waterstones, Foyles, and Blackwells.
About Unit 1 Gallery | Workshop and the Workshop Foundation:
Unit 1 Gallery | Workshop is an exhibition and residency space in London and unique in its approach to bringing artists and their practices to the public. They support a diverse range of emerging and mid-career contemporary artists by providing them with space and time to develop their practice, network within our growing community, be mentored by team members and crucially be introduced to their expansive network of collectors, art educators, professionals and visitors.
Through their residency programmes and exhibitions, they give artists, curators and theorists a platform to present work and share ideas as well as creating an environment for freethinking and exchange.
They have now organised more than 40 exhibitions with over 120 artists and curators, with 10 exhibitions and 25 artists in residence a year, drawing in international audiences and participants, as well as being a local landmark in the community of Kensington and Chelsea and its surrounds.
Unit 1 Gallery | Workshop was founded in 2015 by artist Stacie McCormick in a former builder's merchant.
DETAILS
Contact: +44 (0)75 4831 5800 | info@unit1gallery-workshop.com
Website: www.unit1gallery-workshop.com
Instagram: @unit1galleryworkshop
Twitter: @Unit1_Gallery
Facebook: @unit1galleryworkshop
#unit1galleryworkshop
Fair Art Fair, a new app-based digital platform that facilitates relationships between everyone interested in Art in a confident transparent environment. Whoever you Art you will find a place to explore and discover, buy and sell, organise and document, communicate and be supported. Download the app here.
⁠