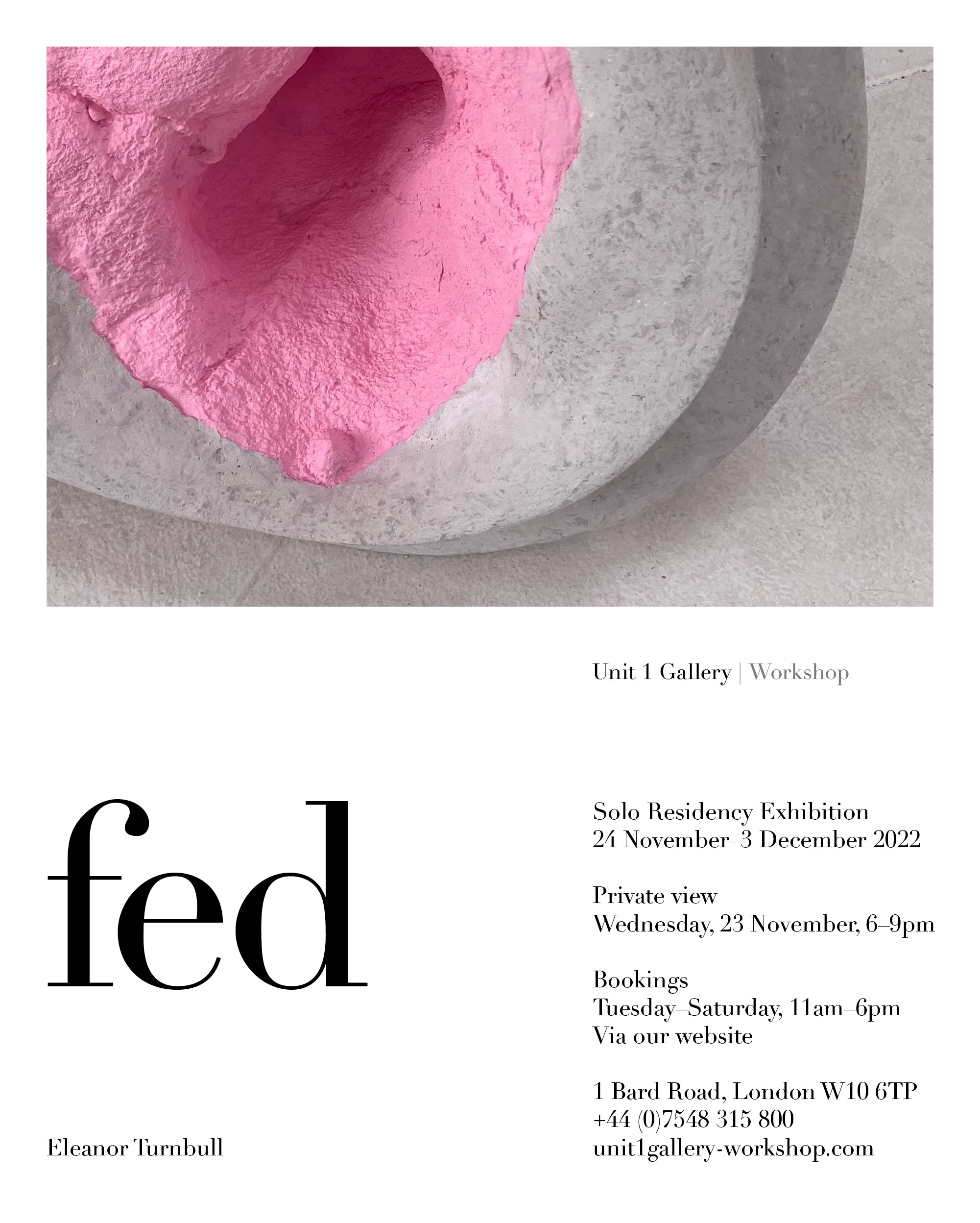 Exhibition Essay:
Eleanor Turnbull's end of residency solo exhibition is the culmination of 3 months studio work here at Unit 1 Gallery | Workshop.
Eleanor has worked intensely and methodically on her series of sculpture investigating the immense and unfathomable nature of emotions through the natural and urban landscapes.
Eleanor's works are at once confounding and enchanting, humorous and monstrous, and vaguely recognisable. Discomfort is at play here both within the sculpture but also in its author. Navigating enormity and synthesising objects from absence, these pieces are of the world as well as other worldly. My first experience of the casting of absence was space under my chair, (1941) Bruce Nauman and I was forever changed. The way of seeing altered forever in that the unseen became visible and physical. Eleanor Turnbull finds ways
of depicting curiosities and discomfort – the void becomes object and somehow made approachable. Her 'table' piece has mouthes rather than plates, her cutlery unusable, morphed into vessels of mystery. To contemplate the void is to ask questions and cooperate with the unanswerability therein.
Are we fed, can we fill the void? Are these opening, these orifices consuming, laughing, screaming. Confronting the void, according to Victor Frankl, the existential vacuum is an inner emptiness commonly felt by the modern "man" living in a world in which "No instinct tells him what he has to do, and no tradition tells him what he ought to do; sometimes he does not even know what he wishes to do."[1]
Eleanor is fearless in her confrontation and she knows exactly what to do, it seems to be a method of allowing and rather than fear
the void, she tames the emptiness, owns the unfathomable and creates a relationship. Like all relationships complexity abounds.
We laugh and we cry in the face of the mystery befriended by these sculptures yet not fully understood creating a feedback loop of questioning. We inhabit the contemporary digital distraction that is a flimsy dopamine frenzy that fails to hide let alone fill the void, and possibly increases the anxiety to rest in the void. I think we are all fed up on the addiction to consume, to click, to post as a method to avoid the void. As the guru and sages wisely attest, it is delving into the void we find freedom.
This journey is daily, moment after moment, the essence of meditation, which is said to be the only way out of addiction. I feel Eleanor's practice, her discipline and explorations are a testimony to the her incredible sensitivity to impossible enormity of the void and she allows herself to swim within & around fearless and fearful – powerfully. I challenge you to re-examine each pot hole, puddle, tide pool, spoon and shape of a void as you make your way through the world and see them anew and allow yourself to be forever changed to see the unseen and be encouraged by Eleanor Turnbull's profound sculptures.
12 September – 20 November 2022
We are remarkably proud to announce our 20th Solo Resident – Eleanor Turnbull 
Eleanor has been awarded the upcoming Solo Residency and will be working in the studio above the gallery space from September to November 2022 with a Solo Residency Exhibition towards the end of November.
Eleanor Turnbull (born 1992, Co. Durham, UK) is an artist living and working between London and Cornwall, UK. Drawing inspiration from the lonely and beautiful landscapes she grew up around, Eleanor creates sculptural installations that collapse landscapes and bodies together via mould-making, moving image, spoken-word and ritual, in an attempt to make sense of emotions and societal behaviours. 
Of her work Eleanor says: 
"I make sculptural installations as if they were healing containers. For me, healing takes place when I can hold grief and joy in the same space. Mould-making is a tool of communication and refuge for me, where I am able to collapse emotions, secrets and landscapes too big for the body to contain, into tangible objects that can playfully patch thoughts together. objects can have the landscape squeezed into them; rockpools become spoons, puddles become vessels, fishfingers hold sounds of the sea. 
I am often finding ways to express affection through my work. The result is always existential, awkward, and full of humour because affection is something I struggle to convey through body language and speech. Instead, I'll go out into the landscape looking for things I can capture in an attempt to manifest appreciation and foster a deep understanding for the landscape and people that holds us. I'll use field-recording, casting, filming and story-telling — copying parts of the landscape and piecing them together in order to map out different personalities, emotions or societal behaviours. 
Through the landscape, I channel what it feels like to be a body. Here, existence becomes fluid — shrunken down to a drop in the ocean or expanded enormously to meet the universe at its own scale. This transformation renders our bodies magical as if the most basic rituals we carry out — cooking, eating, washing, sleeping — could release what has been absorbed and reveal the deepest secrets."
Graduating with an MFA in Fine Art from The Slade School of Fine Art (2022), Eleanor was awarded the Emerging Artist Fund from the Sarabande Foundation (2022), and was shortlisted for the Adrian Carruthers Memorial Award (2022). Recent shows include Anise Gallery, London (2022), White Conduit Projects, London (2022), Boma Gallery, Moscow (2021), Youkobo Art Space, Tokyo (2021), Barbican Arts Group Trust, London (2020), Denchu Hirakushi Atelier, Tokyo (2019) Darwin Gallery, London (2019), Ugly Duck, London (2019), Nunnery Gallery, London (2018), Newlyn Art Gallery, Cornwall UK (2017), Barbican Arts Centre, London (2015).