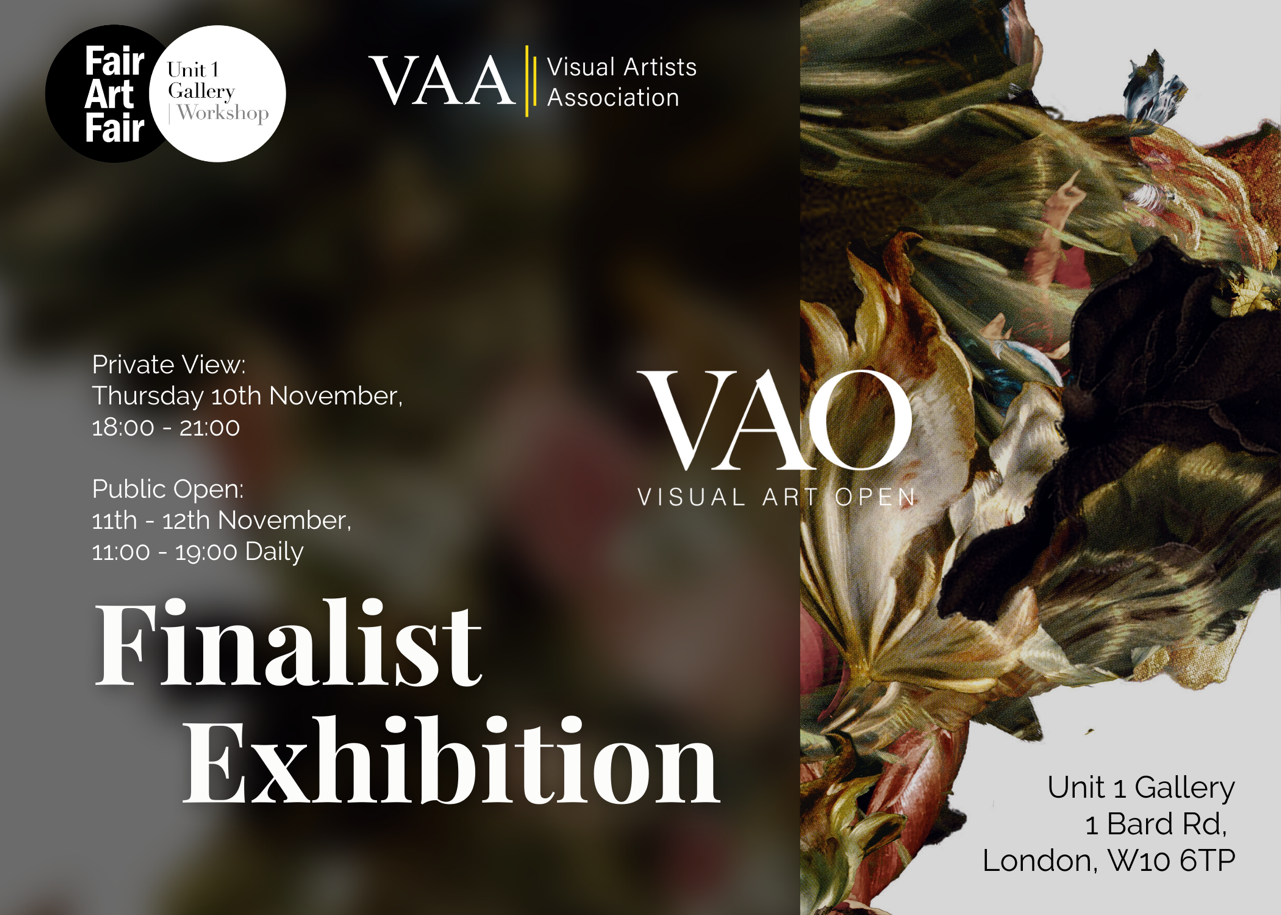 Visual Arts Association – Finalist Exhibition
Exhibition dates: 11th – 12th Nov 2022
Private View: 6-9pm 10th November 2022
A chance to view, buy and network with fellow artists.
Meet Stacie McCormick Director and Founder of Unit 1 Gallery | Workshop and Fair Art Fair.
Fair Art Fair provides a digital platform for both discovery and the opportunity to be discovered. With support, validation, and guidance from industry experts, Fair Art Fair creates new and transparent relationships between consumer and creative.
We will also be joined by VAO & VAA Directors, Laura O'Hare and Shirley-Ann O'Neill and VAA's very own artist mentor Karen van Hoey-Smith as well as industry professionals and art advisors.
The VAO Award helps promote talented artists and establish their profile in the contemporary art world.
The Visual Art Open competition is a not-for-profit event open to both amateur and professional artists based in the UK and internationally. The aim is to give artists the ultimate platform to develop their passion and career in the arts sector by exhibiting, selling and showcasing their work.
About Unit 1 Gallery | Workshop and the Workshop Foundation:
Unit 1 Gallery | Workshop is an exhibition and residency space in London and unique in its approach to bringing artists and their practices to the public. They support a diverse range of emerging and mid-career contemporary artists by providing them with space and time to develop their practice, network within our growing community, be mentored by team members and crucially be introduced to their expansive network of collectors, art educators, professionals and visitors.
Through their residency programmes and exhibitions, they give artists, curators and theorists a platform to present work and share ideas as well as creating an environment for freethinking and exchange.
They have now organised more than 40 exhibitions with over 120 artists and curators, with 10 exhibitions and 25 artists in residence a year, drawing in international audiences and participants, as well as being a local landmark in the community of Kensington and Chelsea and its surrounds.
Unit 1 Gallery | Workshop was founded in 2015 by artist Stacie McCormick in a former builder's merchant.
DETAILS
Contact: +44 (0)75 4831 5800 | info@unit1gallery-workshop.com
Website: www.unit1gallery-workshop.com
Instagram: @unit1galleryworkshop
Twitter: @Unit1_Gallery
Facebook: @unit1galleryworkshop
#unit1galleryworkshop
Fair Art Fair, a new app-based digital platform that facilitates relationships between everyone interested in Art in a confident transparent environment. Whoever you Art you will find a place to explore and discover, buy and sell, organise and document, communicate and be supported. Download the app here.
⁠