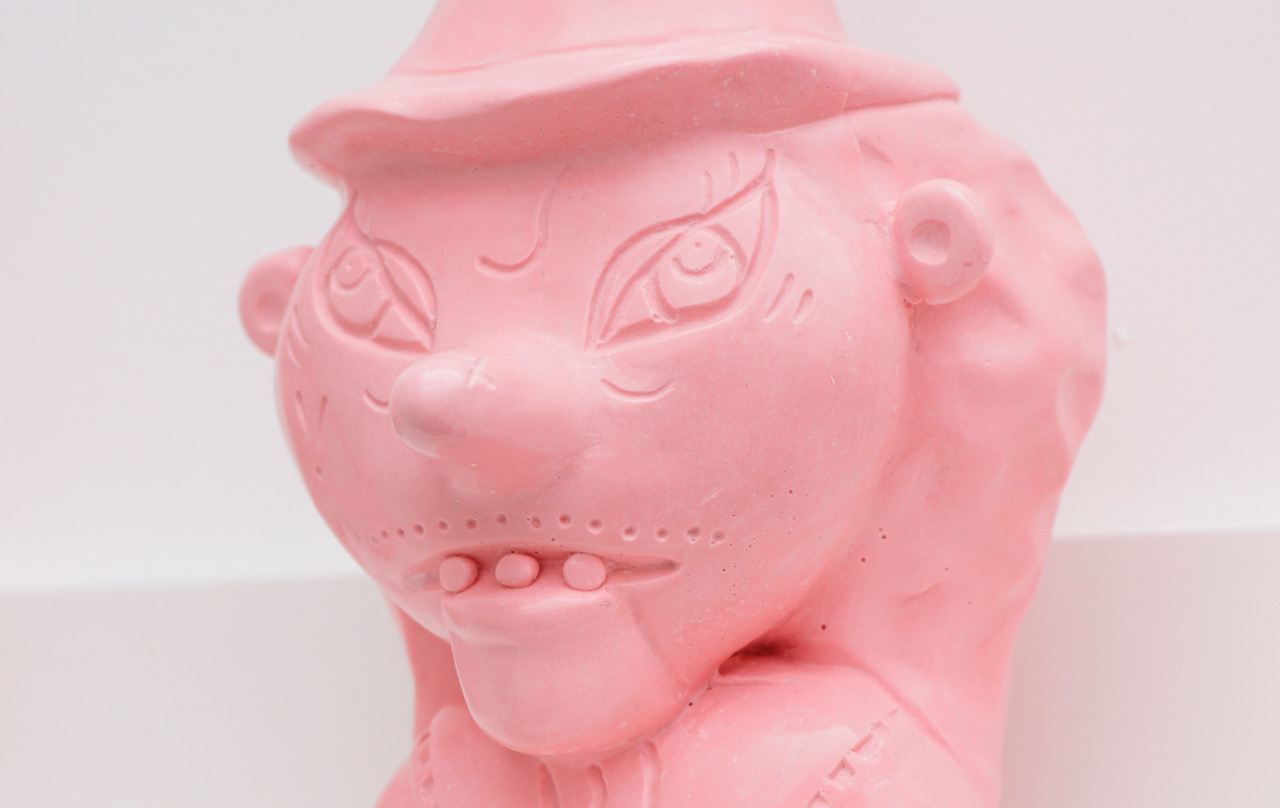 Ghost-Like Traces
Exhibition
Exhibition dates: 8 – 28 April 2022
Private View: Thursday, 7 April, 6 – 9pm
Hauntology –  a range of ideas referring to the return or persistence of elements from the social or cultural past, as in the manner of a ghost.
If the era of the YBAs in the 1990s was the era of 'me', current socially engaged art practice is the era of 'us'. The artists in Ghost-Like Traces fall into neither category but demonstrate the effect of both. Unconcerned with the self analysis and absorbing the lessons of self promotion demonstrated by some of their predecessors, they are, however, the inheritors of a new conceptualism that was used as a catchall term for the YBAs 25 years ago. The ubiquitousness of digital technology has developed possibilities for artists over that time but it has also created a reaction whereby artists are returning (or perhaps never left) the tried and tested forms of painting and sculpture; making things by hand with its basis in an accumulation of imagery that informs their practice. But life is not a linear progression of data but an overwhelming abundance of images whose randomness challenges the artist to make cohesive sense out of apparently disparate events and images as references mutate and cohere, divide and reassemble in endless combinations of materials and media. While this may first appear to be harking back to earlier moments in 20/21 century art history and therefore prey to the criticism of nostalgia, referring to the enduring potency of elements from the recent art historical past. This hauntological sensibility that evokes cultural memory and the aesthetics of the past echoes the words of Little Axe who described his music as taking "the tones and feelings of the old blues and putting today's stamp on it'. Or as Andrew Gallix has put it, "When you come to think of it, all forms of representation are ghostly. Works of art are haunted not only by the ideal forms of which they are imperfect instantiations, but also by what escapes representation." In an age of advanced digital technology, retro imagery is self consciously couched in the global language and form of contemporary art that artists can disrupt in order to see the world afresh compiling a vocabulary of objects and images in the process that provide an account of today.
Artists:
Niccolo Binda | Charlotte Dawson | Marc-Aurèle Debut | Jack Evans | Enej Gala | Sae Yeoun Hwang  | Jerome | Conor Murgatroyd | Hannah Wilson | Diana Zrnic
About the Curators:
Thorp Stavri is a London based curatorial platform, comprising curators Eric Thorp and Nicholas Stavri They are committed to developing and supporting artists' practices and accessibility to art through exhibitions, collaboration, talks, workshops and a regular arts podcast.
An integral part of their curatorial vision is the ambition to amplify underrepresented voices within the art world and offer the opportunity to exhibit new work without the constraints of commercial bias.
Thorp Stavri have been awarded the Arts Council England Project Grant for the production of 'The Factory Project' at Thameside Industrial Estate, London (2021) and for the co-curation of 'Five Hides' at the historic Manor Place Baths, London (2020).
Website: www.thorpstavri.co.uk
Email: contact@thorpstavri.co.uk
Instagram: @thorpstavri
Hashtags: #ThorpStavri
About Unit 1 Gallery | Workshop and the Workshop Foundation:
Unit 1 Gallery | Workshop is an exhibition and residency space in London and unique in its approach to bringing artists and their practices to the public. They support a diverse range of emerging and mid-career contemporary artists by providing them with space and time to develop their practice, network within our growing community, be mentored by team members and crucially be introduced to their expansive network of collectors, art educators, professionals and visitors.
Through their residency programmes and exhibitions, they give artists, curators and theorists a platform to present work and share ideas as well as creating an environment for freethinking and exchange.
They have now organised more than 40 exhibitions with over 120 artists and curators, with 10 exhibitions and 25 artists in residence a year, drawing in international audiences and participants, as well as being a local landmark in the community of Kensington and Chelsea and its surrounds.
Unit 1 Gallery | Workshop was founded in 2015 by artist Stacie McCormick in a former builder's merchant. 
Fair Art Fair, a new app-based digital platform that facilitates relationships between everyone interested in Art in a confident transparent environment. Whoever you Art you will find a place to explore and discover, buy and sell, organise and document, communicate and be supported. Download the app here.
⁠