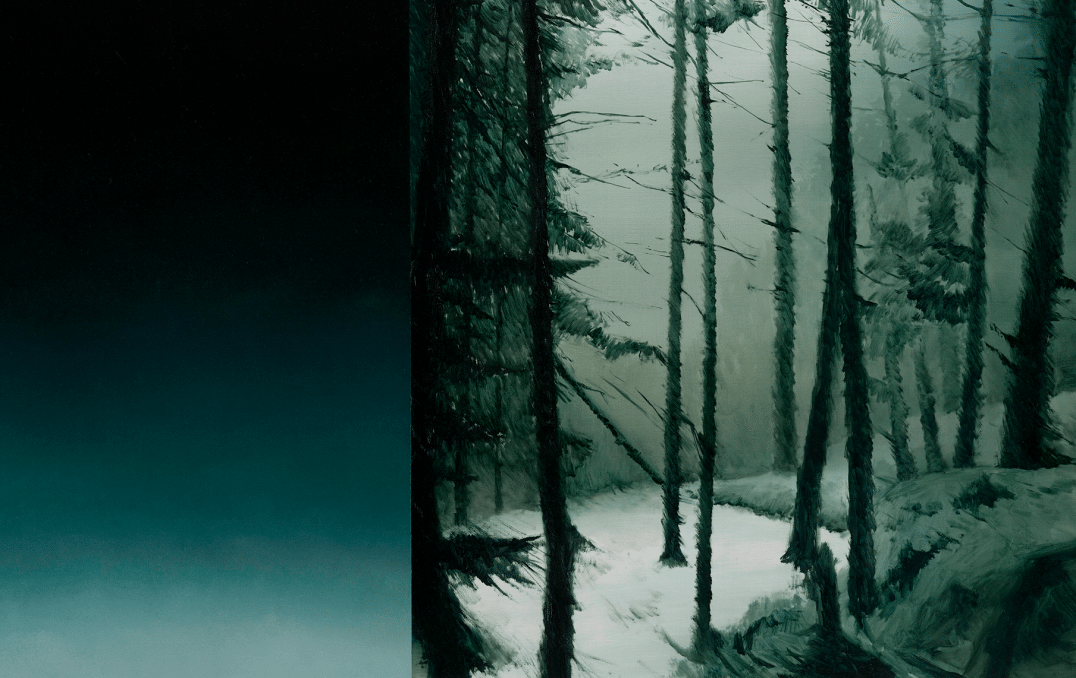 Locus Solus
Mircea Teleagă
Exhibition dates:
March 31st – April 29th, 11 – 6 pm, Tues – Sat, 2023
Many years ago, my husband, Igor, shared an unforgettable reflection, he grew up in the former Yugoslavia in Novi Sad.  As a child he had a relationship with a tree in the courtyard of their building that was akin to awe, he recalls his first confrontation with a forest – as just too much to comprehend.  This story has fascinated me, as I grew up surrounded by forests and the extra-large nature of northern California- its famous enormous trees. I had no recollection of the first time I saw a forest, indivisibly.  We all have a relationship with forests one way or another, almost every culture has fables and myths that hold the forest in a place of mystery and often, danger.  The expression 'being in the woods' has come to mean lost or dislocated.  Forests, either near or far, are epically and intrinsically imbedded in our psyche, experience, and survival.
Mircea Teleagă Locus Solus at Unit 1 Gallery|Workshop is a series of large-scale paintings exploring images of the forest and nature as place, as abstraction, as locator and as infinitely ungraspable. Romanian born, UK based, Mircea is not home, or is at home in two places. For those of us that have left home, being in-between is a constant.  These painting are majestic and ominous simultaneously, dark shadows, towering heights, deep perspectives conjure the crepuscular forest walk that has been the device of horror films, thousands of nightmares, and recently, the destination of healing forest bathing.  These are paintings that remember they are paintings; Mircea disrupts the revelry by fracturing the image and juxtaposing abstractions that force us awake from either dream or reality.  The seeking and longing for location is a condition of the migrant, to belong anew or to return to known, with the age-old problem that home will not be the same again.  Within these paintings is a feeling of disconnection and longing that we can never grasp the fullness of the forest -remaining eternally mysterious for all its shadows, heights and depth, much the same as our own inability to fully know ourselves.  Solitude is the prevailing mood and even in the singular painting of the still riverbed, a sunken object (manmade) depicts that which, too- does not belong, jarring us from romanticism and highlighting our dislocation.
Whilst the figuration suggests something we know, something familiar, scrutiny exposes that these paintings have more to do with surrealism, much as Magritte's' "Ceci n'est pas une pipe", Mircea never allows the figuration to be 'real'.  The reflection, the dream these paintings are illustrating feels more like they are asking us to understand and that we are not seeing the forest but visiting the imagination of the painter's mind.  The poetry and wisdom in Mircea's paintings allow them to be dreamscapes and abstraction simultaneously.  The ambiguity of the paintings mirrors the absurd conundrum of humanity and belonging.  It is impossible to view these trees without contemplating climate change and the endangerment to them and ourselves, so inextricably linked.  To be on the earth yet separated from it by our ideas of boarders and identities.  To surrender to the forest will require us to be its custodian, the protector of the trees and ourselves. 
The symbol of the forest, incomprehensible in its entirety, requires us to surrender to the mystery.  I feel that despite Mircea's urban upbringing he paints the forest not to depict nature but to explore and endeavour to understand loneliness and isolation, to accept, to never be home again.  Home becomes the domain of the mind and not a real place, Locus Solus is an exhibition about placing ourselves fully embracing our separateness.   Are we home?  Are we here, or are we in the forest? Am I alone? And furthermore, what does one see when imagining where we are? What do you see when you surrender to the forest, or to solitude.  Perhaps the forever ominous, forbidding forest remains as such because as we confront its mystery, we cannot help but be exposed to ourselves as vulnerable and isolated, explaining why most do not seek the forests depths.  Mircea dives deep into the shadows and locates himself.
It is impossible to avoid the cliche to not 'see the forest for the trees.'   Mircea's paintings swim in the space between and give us an opportunity to inhabit the liminal.  He is asking us to surrender to the majestic ungraspable wholeness – a place we all belong.
-written & curated by Stacie McCormick
About Mircea Teleagă
Born in 1989 in Romania and currently lives and works in London.
In 2016 he graduated from the MFA Painting Course at the Slade School of Fine Art where he was awarded the Sarabande Lee Alexander McQueen Scholarship, having been selected for this prize by Dinos Chapman. As part of the same scholarship, Teleagă was also awarded with a two year studio residency at Sarabande in London (2016 – 2018) After returning from a three month residency in Hong Kong at the AVA, HKBU, the artist held two solo shows at the Sarabande Foundation, let it burn in 2017 and Presence in 2018.   During this time he exhibited for the first time in South Korea with Space K Gallery in the show Romanian Eyes (2018)  and was also a finalist in a number of art prizes such as Wells Art Contemporary (2018 and 2016) Wells [UK], Beep Wales International Painting Prize (2018 and 2016), Swansea [UK] and Dentons Art Prize (2018) London. 
In 2019 Teleagă held a solo show entitled WORKS at Europe House, the European Commission Representation in the UK, and also travelled for his first residency in South Korea as part of the KHNP Gyeongju International Art Festival. 
In 2021 Teleagă exhibited alongside Minyoung Choi in the duo show IN CONVERSATION at bo.lee Gallery in London. Following this he was a finalist in the Ingram Collection Prize held at Unit 1 Gallery Workshop in London.
Mircea Teleagă has most recently shown in Hinterland at John Martin Gallery in 2023, curated by Jane Neal.  Mircea has just returned from a three month residency at NKD in Norway.  
Notable collections which hold works by Mircea Teleagă include AVA Collection, HKBU [Hong Kong]; Kolon Collection, Seoul [South Korea]; KHNP Collection, Gyeongju [South Korea]; Sarabande Collection, London [UK]; Simons & Simmons, London [UK]; Soho House Collection Amsterdam [the Netherlands]; Soho House Collection Paris [France]
About Unit 1 Gallery | Workshop and the Workshop Foundation:
Unit 1 Gallery | Workshop is an exhibition and residency space in London and unique in its approach to bringing artists and their practices to the public. They support a diverse range of emerging and mid-career contemporary artists by providing them with space and time to develop their practice, network within our growing community, be mentored by team members and crucially be introduced to their expansive network of collectors, art educators, professionals and visitors.
Through their residency programmes and exhibitions, they give artists, curators and theorists a platform to present work and share ideas as well as creating an environment for freethinking and exchange.
They have now organised more than 40 exhibitions with over 120 artists and curators, with 10 exhibitions and 25 artists in residence a year, drawing in international audiences and participants, as well as being a local landmark in the community of Kensington and Chelsea and its surrounds.
Unit 1 Gallery | Workshop was founded in 2015 by artist Stacie McCormick in a former builder's merchant.
DETAILS
Contact: +44 (0)75 4831 5800 | info@unit1gallery-workshop.com
Website: www.unit1gallery-workshop.com
Instagram: @unit1galleryworkshop
Twitter: @Unit1_Gallery
Facebook: @unit1galleryworkshop
#unit1galleryworkshop
Fair Art Fair, a new app-based digital platform that facilitates relationships between everyone interested in Art in a confident transparent environment. Whoever you Art you will find a place to explore and discover, buy and sell, organise and document, communicate and be supported. Download the app here.
⁠