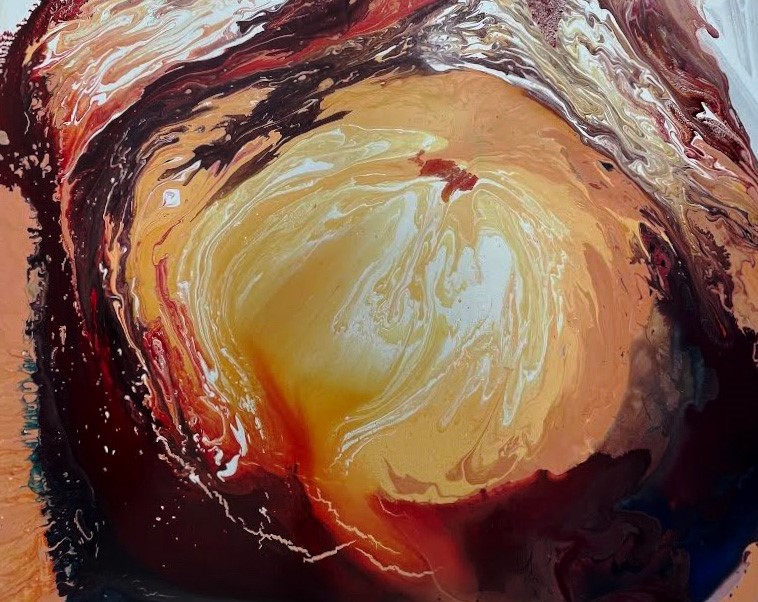 Matrescence
Rhiannon Rebecca Salisbury
Private view:
Thursday, September 14th, 6-9pm, 2023
Exhibition dates:
September 15th – 30th, 2023
Conditions, states of being, environments, opportunities, and forces beyond our control can all be facets of human experience and life as we know it. Yet, there exist intrinsic experiences that surpass our capacity to comprehend, embrace, or articulate. It is these very experiences that I believe artists are uniquely poised to delve into. "Matrescence," an exhibition, probes the depths of change, creation, beauty, horror, confusion, and mystery.
Rhiannon Rebecca Salisbury, a fearless woman and an intrepid painter, has consistently posed inquiries through her artistic practice. Her vibrant, forceful strokes of figurative abstractions seamlessly oscillate between beauty and horror, sustaining a perpetual curiosity. What exactly do these artworks reveal? The layers of paint and colours are irresistible, drawing us in. However, the drippy, melty female figures depicted aren't the idealized beauties of the fashion world that Rhiannon references. Rather, they embody the female experience, reflecting the comparative gaze and the inadequacy perpetuated by media's portrayal of the ideal, which leaves ordinary women feeling deficient. This leads to an unending cycle of correction to conform to the pressures of the beauty standard. Rhiannon's art has long scrutinized this chaotic realm, yielding a legacy of paintings that document her responses and insights into the absurdity of contemporary beauty ideals.
And then pregnancy –
"Becoming a mother marks an immense, intricate life transition that can shake a person to their core. This process has even been assigned a term: matrescence. While seemingly novel, this term was actually coined in the 1970s by medical anthropologist Dana Raphael. * 
The disruption, excitement, and enigma of being held captive by biology and nature find expression in charcoal, ink, and paint. Uncanny scans that unveil the unborn child take on the form of anticipatory portraits. The large paintings, portraying her substantial stomach that seems almost planetary, are visceral and reminiscent of galaxies.
"Matrescence" builds upon Rhiannon's foundation but turns her focus inward, spotlighting the extraordinary journey of pregnancy. The three-month Solo Residency coincides with the latter part of Rhiannon's gestation. Her pregnancy came to light only during the interview stage, as her selection for the residency was based solely on her artistic integrity. We were thrilled to champion a pregnant artist, using her work to initiate conversations about motherhood and artistic practice. Observing Rhiannon train her gaze on herself and channel her laser focus into comprehending the monumental changes her body and mind are undergoing has been impressive to witness. With newfound self-trust, Rhiannon chose to rely on instinct and herself for the works, rather than starting with a media image.  She has plunged into creation from within, all whilst bringing a new life into existence.
Risking failure serves as the teacher for artists, and Rhiannon embraced an entirely novel starting point, embarking on a journey of confusion and experimentation. She boldly diverged from her prior understanding, resulting in a fresh body of work that retains her unique style while forging new territory. Art's history glaringly lacks depictions of pregnant women, particularly by female artists. These intimate and monumental pieces vividly capture beauty, horror, and mystery. Once more, Rhiannon captures a truth: while the romantic notion of the saintly pregnancy persists, underlying anxiety and fear exist in tandem. The astonishing bodily adaptations are not for the faint-hearted, juxtaposing majesty and monstrosity. In today's reality, challenges faced by female artists are a pressing topic, with statistics remaining grim; only artist mothers face bleaker prospects. "Matrescence" becomes an indispensable platform to broach this subject, prolong dialogues, and cultivate understanding.
It's impossible not to contextualize this within the framework of a long history of suppression and the ongoing patriarchal legacy of disempowerment. Women owe it to themselves to assert their position, claim their domain, and, most crucially, establish support mechanisms within our society. This ensures the capacity to be both mothers and artists, without the need to choose between the two. I implore you to identify a male artist asked to forfeit their practice for the sake of fatherhood.
*Reference: "How to Navigate Matrescence – The Ups and Downs of New Motherhood" by Grace Bastidas and Audrey Nguyen"


Biography:
Rhiannon Rebecca Salisbury lives and works in London. She graduated from the Turps Banana Studio Painting Program in 2018, having previously completed her MA in Fine Art at Chelsea College of Art (2016). Recent exhibitions and projects include: "Femininity" (2021 – Solo Exhibition) and "Habitual Submission" (2019 – Solo Exhibition) at Delphian Gallery, Darbyshire Prize For Emerging Artists (Solo Exhibition) at Darbyshire Ltd w. Turps Banana (London, 2018), Accessorise With A Tiger (Solo Exhibition) at Arusha Gallery (Edinburgh, 2018), Antisocial Isolation (Group Exhibition) at Saatchi Gallery 
Delphian Gallery (2021), Ancient Deities (Group Exhibition, also curator) at Arusha Gallery (Edinburgh, 2020), Small Is Beautiful XXXVII (Group Exhibition) at Flowers Gallery (London, 2019), Ultra: Art For The Woman's World Cup (Group Exhibition) at J. Hammond Projects, presented by OOF Magazine (London, 2019). Recent achievements include, winning The Darbyshire Prize For Emerging Art, being awarded The John Hoyland Scholarship, and being selected to undertake a residency and exhibition in Guadalajara, Mexico
About Unit 1 Gallery | Workshop and the Workshop Foundation:
Unit 1 Gallery | Workshop is an exhibition and residency space in London and unique in its approach to bringing artists and their practices to the public. They support a diverse range of emerging and mid-career contemporary artists by providing them with space and time to develop their practice, network within our growing community, be mentored by team members and crucially be introduced to their expansive network of collectors, art educators, professionals and visitors.
Through their residency programmes and exhibitions, they give artists, curators and theorists a platform to present work and share ideas as well as creating an environment for freethinking and exchange.
They have now organised more than 40 exhibitions with over 120 artists and curators, with 10 exhibitions and 25 artists in residence a year, drawing in international audiences and participants, as well as being a local landmark in the community of Kensington and Chelsea and its surrounds.
Unit 1 Gallery | Workshop was founded in 2015 by artist Stacie McCormick in a former builder's merchant.
DETAILS
Contact: +44 (0)75 4831 5800 | info@unit1gallery-workshop.com
Website: www.unit1gallery-workshop.com
Instagram: @unit1galleryworkshop
Twitter: @Unit1_Gallery
Facebook: @unit1galleryworkshop
#unit1galleryworkshop
Fair Art Fair, a new app-based digital platform that facilitates relationships between everyone interested in Art in a confident transparent environment. Whoever you Art you will find a place to explore and discover, buy and sell, organise and document, communicate and be supported. Download the app here.
⁠