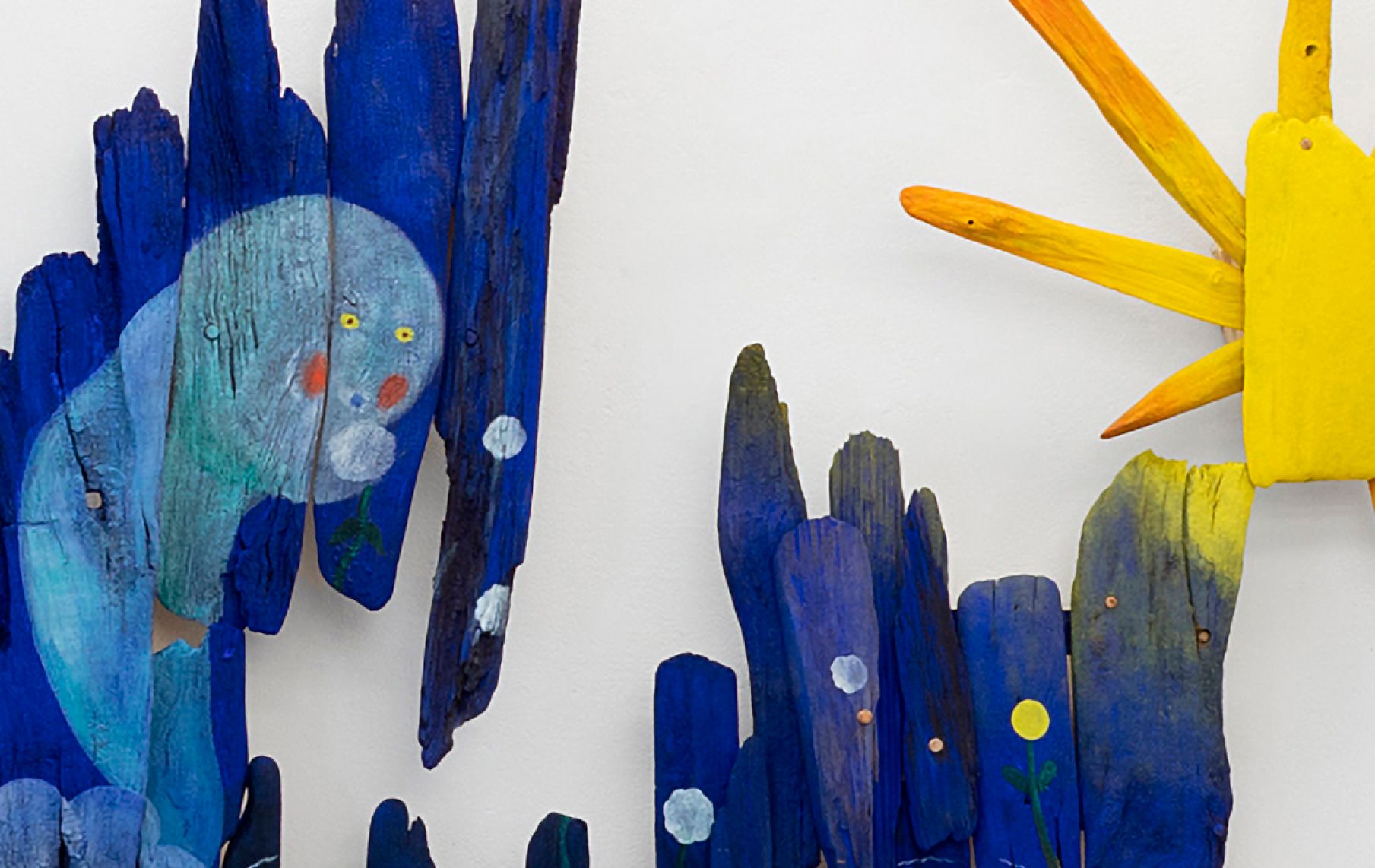 Primeval
Bartlomiej Hajduk
Jean-François Krebs
Karolina Dworska
Katia Kesic
Milda Lembertaité
Rosie McLachlan
Simona Orentaité
Sophie Birch
Exhibition dates:
February 3rd – 25th, 11 – 6 pm, Tues – Sat, 2023
"And she could see contours of other worlds and other times, stretched out above and below ours. She could also see things that cannot be described in words."
Primeval and Other Times, Olga Tokarczuk
Unit 1 Gallery|Workshop is delighted to announce that Collective East founders Borbala Komjathy and Anya Kashina are the winning proposal for the Exhibition Open call for curators. Inspired by the desire to create stronger bonds between the creatives of Western and Eastern Europe, we were delighted to see a proposal of strength that highlights Artists from Eastern Europe.
Borrowing its title from the novel Primeval and Other Times by the Nobel Prize recipient Polish author Olga Tokarczuk, Primeval brings together eight women and LBGTQI+ artists, with a special focus on practitioners of Eastern European heritage.
Tokarczuk's novel is populated with anthropomorphic creatures, angels, ghosts and old gods that dwell in the ancient forest of its rural Poland, while the habitants of the neighbouring sheltered village are struggling to upkeep as modernity and the outside world seeps into their lives. In this peculiar microcosm myth and modernism, old and new religions, human and non-human exist on a non-linear chronology where time seems to cyclically collapse and be reborn.

The exhibition features a mix of media, including ceramics, glass, painting and clay, from artists whose diverse practice also interrogates questions of cosmogonies, and challenges our traditional understandings of existing systems of hierarchies.

Exhibited artists: Bartlomiej Hajduk, Jean-François Kreb, Karolina Dworska, Katia Kesic, Milda Lembertaité, Rosie McLachlan, Simona Orentaité, Sophie Birch

Bartlomiej Hajduk's (b. Poland) creates universes inhabited with human and anthropomorphic figures, natural and fantastical biota and planets. Influenced by universal and local mythologies from his native, rural Poland and interrogating sexuality and spirituality.

Liquidity and touch, queer botany, sensual landscapes and spaces are recurring elements in Jean-François Krebs' (b.France) multimedia and experimental practice. Interactive installations, haptic rituals or nest-like sculptures, most of their work is concerned with notions of metamorphosis and healing.
Working predominantly in sculpture and rug-making, Karolina Dworska's (b. Poland)  artistic practice explores dreams, mythologies and delves into the subject matter of the in-between; the grey area between dream and reality, and fantasy spaces, balancing precariously between definitions.
Ceramicists  Katia Kesic (b. Russia) explores the human body as a memory vessel that collects the traces of one's subjective and objective lived experiences and imagination. Searching for the core essence of memory and collating her own experiences of living in Russia and the UK, Kesic converts her own mythology into her work.
Milda Lambertaite (b.Lithuania) critical and playful work investigates our relationship with nature, technology and history. Lambertaite explores what we can learn about ourselves through the non-human, with a focus on materiality and collaboration.

Rosie McLachlan (b.UK) engages with the liminal and the chthonic to create sculptural works that are inspired by archaeology, comparative mythology, folklore and thanatology.
Through meditative processes, Simona Orentaite (b.Lithuania) works in multi-layered watercolour and oil paintings, mediating a shared eternal consciousness and the impermanence of material form.
Sophie Birch (b.UK) treats her canvas as a visual diary. In her work, Birch merges layers of perception, her visual language culminating from what she sees, remembers and images. She is attracted to subjects which are in transition or have the potential to transition; things which are about to happen, go somewhere, or be transformed into something else.
About Collective East
Collective East is an independent collaborative practice promoting the work of artists and cultural practitioners from the CEE region. Founded by artist Anya Kashina (b.1993, Yaroslavl, Russia) and independent curator & writer Borbala Komjathy (b.1993, Budapest, Hungary), C.E. was born out of a desire for more connection, collaboration and support between the creative sectors and practitioners of the UK and Eastern Europe.
About Unit 1 Gallery | Workshop and the Workshop Foundation:
Unit 1 Gallery | Workshop is an exhibition and residency space in London and unique in its approach to bringing artists and their practices to the public. They support a diverse range of emerging and mid-career contemporary artists by providing them with space and time to develop their practice, network within our growing community, be mentored by team members and crucially be introduced to their expansive network of collectors, art educators, professionals and visitors.
Through their residency programmes and exhibitions, they give artists, curators and theorists a platform to present work and share ideas as well as creating an environment for freethinking and exchange.
They have now organised more than 40 exhibitions with over 120 artists and curators, with 10 exhibitions and 25 artists in residence a year, drawing in international audiences and participants, as well as being a local landmark in the community of Kensington and Chelsea and its surrounds.
Unit 1 Gallery | Workshop was founded in 2015 by artist Stacie McCormick in a former builder's merchant.
DETAILS
Contact: +44 (0)75 4831 5800 | info@unit1gallery-workshop.com
Website: www.unit1gallery-workshop.com
Instagram: @unit1galleryworkshop
Twitter: @Unit1_Gallery
Facebook: @unit1galleryworkshop
#unit1galleryworkshop
Fair Art Fair, a new app-based digital platform that facilitates relationships between everyone interested in Art in a confident transparent environment. Whoever you Art you will find a place to explore and discover, buy and sell, organise and document, communicate and be supported. Download the app here.
⁠