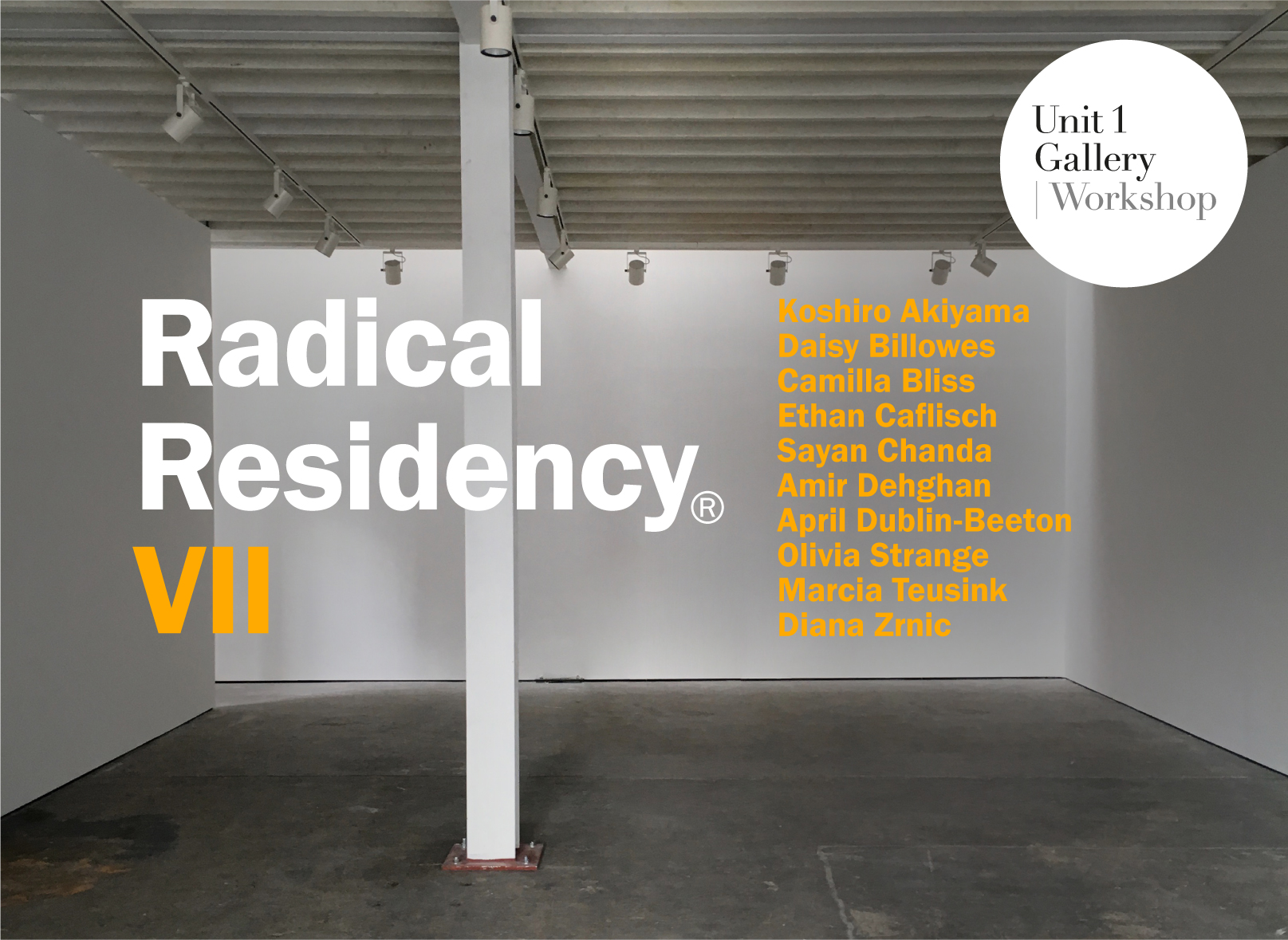 Radical Residency® VII
Koshiro Akiyama, Daisy Billowes, Camilla Bliss, Ethan Caflisch, Sayan Chanda, Amir Dehghan, April Dublin-Beeton, Olivia Strange, Marcia Teusink, Diana Zrnic
Working studio dates: 11 July—5 August 2022
Exhibition Opening: 11 August, 6-9 pm
Exhibition dates: 12—27 August 2022
So very exciting to have a return to regular programming and bring one of our favourite initiatives back to life — the Radical Residency® VII is on! We are happy to announce the continuation of this amazing programme: Unit 1 Gallery | Workshop is again hosting artists for the seventh instalment of the Radical Residency®, the exciting and dynamic initiative that welcomes 10 artists from all over the world to work side by side in a large communal studio for one month after which we curate an exhibition from the results of this intense experience. The working studio time is also open and seen as a living exhibition, inviting the public during opening hours to engage with the artists at work. This is an unmissable opportunity for visitors to witness 12 artists working on site, including founder Stacie McCormick and current Solo Resident Katharina Arndt.
The 10 places have been awarded to a multi-disciplined group of artists from 7 different countries: Koshiro Akiyama (Japan), Daisy Billowes (Greece), Camilla Bliss (UK), Ethan Caflisch (US), Sayan Chanda (India), Amir Dehghan (Iran), April Dublin-Beeton (UK), Olivia Strange (UK), Marcia Teusink (US), Diana Zrnic (Croatia).
Koshiro Akiyama is a visual artist whose works are based on photos and memories. The mediums used, especially acrylic, ink and watercolour, are chosen to build up multiple transparent layers with fluid brushstrokes. Having absorbed the expressive, disturbing potential of Eduard Munch's work, Koshiro's use of vibrant, even lurid, colours construct illusionistic and dream-like worlds, employing a direct, intuitive process to use these settings to create psychologically probing paintings. 
Koshiro lives and works in London, UK.
Daisy Billowes is a Manx based artist, raised in Athens and the UK. She studied at Newcastle University (2015) and the Royal College of Art, London (2017). Her multi-disciplined practice opens up a debate between female restraints within mythical narrative, the qualities of digital media and technology through tactile mark-making and creates questions about works viewed post-internet age and the tricky landscape that they now inhabit.
Camilla Bliss recently finished a Masters in Sculpture at the Royal College of Art in 2021 and is the co-founder of the curatorial collective HAZE. She was recently selected by the Gazelli Art House for their Window Project and was the winner of the RCA Yorkshire Sculpture Park award 2021.
Ethan Caflisch started at a young age working in ceramics. he attended California College of the Arts (2011-2015) and graduated with an individualised bachelor of fine arts and a visual studies minor; focusing on painting, sculpture, interior design, and film. he also completed the Turps Banana painting programme (2020-2022). His work has been shown at many institutions internationally, including the richmond art Center, Royal Academy of Arts, Southern Exposure, Cheryl Aazan Gallery, and ICA San Jose; and he has been artist-in-residence with numerous institutions in the United States, United Kingdom, Portugal, and Norway. Caflisch (pronounced cuh-fleesh) is currently living and working in London. His diverse body of work encompasses painting, sculpture, and photography.
Sayan Chanda (b. Kolkata) is an artist and textile practitioner living and working in London. Sayan creates hybrid forms that conjure votive offerings, ritual markings and folk iconography using fibres, clay and articles of personal significance. Employing laboured methods of weaving, stitching, dyeing, unpicking found textiles and hand-building, he works intuitively giving physical forms to his anxieties, mythologies, and individual and collective memory. The culminating ambiguous forms allow him to escape into a more comfortable myth.
Amir Dehghan is an Iranian political artist and the son of an ex-political prisoner, growing up alongside him in exile and using the language of art to continue his legacy and represent a censored people, trapped within Iran's borders. Internally, Amir's practice defines his identity; it's an exploration into his culture and an attempt to find out where he stands as a British/Iranian and the son of the tortured. Outwardly, he attempts to introduce a dialogue that focuses on the issues, within Iran, by referencing a culturally familiar gesture from the western perspective beside an artefact highlighting the same gesture that might contrast within Iranian politics/society. Usually taking the physical form of installations, paintings, sculptures, robotics, photographs and sound works – to create an artistic discourse that can directly speak on behalf of the people who can't talk. He manipulates the trust that comes with neutral contemporary gallery spaces to tell the story of his people unapologetically.
April Dublin-Beeton is born and raised in London to British and Caribbean heritage, April Dublin-Beeton channels her creativity through the intuitive process of painting. To her, painting is problem solving, both physically, through the act of painting itself, and mentally. She prefers working spontaneously on unstretched canvas and cartridge paper in the bulk of her practice, combining elements of drawing and painting, and focusing on colour and paint first and foremost to establish her own personal visual language. She draws inspiration from events and emotions past and present, using painting to process and memorialise the motions of life. 
Olivia Strange's multi-disciplinary practice spanning sculpture, painting, installation, moving image and poetry, is characterised by a layered narrative and highly visceral aesthetic. The work is concerned with disarming patriarchal descriptors via exploration of her Italian roots and draws on themes of Greco-Roman mythology, the female body & jouissance to portray an empowering image of queer female subjectivity.  
Marcia Teusink is a multidisciplinary artist whose work explores climate change, collapsing environments and regrowth through painting, sculpture, video, printmaking and mixed media. Teusink frequently collaborates with other artists, including an ongoing collaboration with London-based Ground Collective.
Diana Zrnic Switches back and forth between the digital and the actual by juxtaposing the two creates a pathway for her to explore the relationship between different types of spaces and different kinds of interaction (the physical and the digital). Through reimagination and digital recycling of the paintings and images, network aesthetics offers the multiplication of possible forms that thought itself might take.