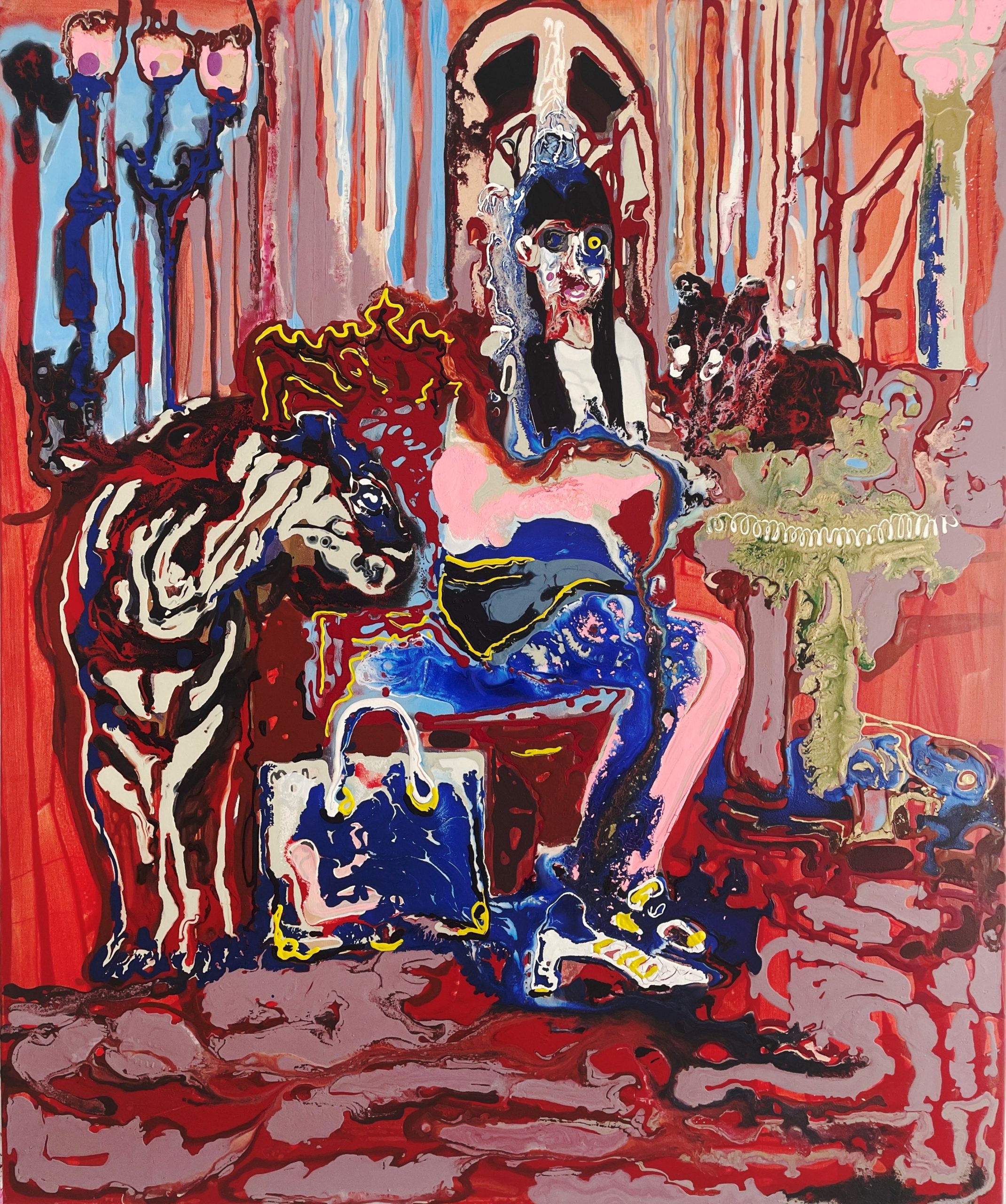 Solo Residency – Rhiannon Rebecca Salisbury
Open Studio
Exhibition dates:
June 26th – August 25th, 2023

Unit 1 Gallery | Workshop is remarkably proud to announce our 21st Solo Resident Rhiannon Rebecca Salisbury!
Rhiannon lives and works in London. She graduated from the Turps Banana Studio Painting Program in 2018, having previously completed her MA in Fine Art at Chelsea College of Art (2016). Recent exhibitions and projects include: "Chthonia" (2022- Solo Exhibition at Arusha Gallery, "Femininity" (2021 – Solo Exhibition) and "Habitual Submission" (2019 – Solo Exhibition) at Delphian Gallery, "Show Stopper" and "Synthesis" (Group Exhibition's) at Saatchi Gallery w. Delphian Gallery (2022), "Antisocial Isolation" (Group Exhibition) at Saatchi Gallery w. Delphian Gallery (2021), Ancient Deities (Group Exhibition, also curator) at Arusha Gallery (Edinburgh, 2020), Small Is Beautiful XXXVII (Group Exhibition) at Flowers Gallery (London, 2019), Ultra: Art For The Woman's World Cup (Group Exhibition) at J. Hammond Projects, presented by OOF Magazine (London, 2019). 
Recent achievements include winning the Delphian Open Call in 2019 for which there were more than 10,000 applicants, and being invited onto The Clover Mill Artist Residency in The Netherlands in 2022. Rhiannon has also been awarded The Darbyshire Prize For Emerging Art upon graduating from Turps, and The John Hoyland Scholarship whilst at Chelsea, and was selected to undertake a residency and exhibition in Guadalajara, Mexico. 
Rhiannon has begun working on her upcoming exhibition that will be shown in the studio above the gallery this September. You can also visit her Open Studio by appointment.
About Unit 1 Gallery | Workshop and the Workshop Foundation:
Unit 1 Gallery | Workshop is an exhibition and residency space in London and unique in its approach to bringing artists and their practices to the public. They support a diverse range of emerging and mid-career contemporary artists by providing them with space and time to develop their practice, network within our growing community, be mentored by team members and crucially be introduced to their expansive network of collectors, art educators, professionals and visitors.
Through their residency programmes and exhibitions, they give artists, curators and theorists a platform to present work and share ideas as well as creating an environment for freethinking and exchange.
They have now organised more than 40 exhibitions with over 120 artists and curators, with 10 exhibitions and 25 artists in residence a year, drawing in international audiences and participants, as well as being a local landmark in the community of Kensington and Chelsea and its surrounds.
Unit 1 Gallery | Workshop was founded in 2015 by artist Stacie McCormick in a former builder's merchant.
DETAILS
Contact: +44 (0)75 4831 5800 | info@unit1gallery-workshop.com
Website: www.unit1gallery-workshop.com
Instagram: @unit1galleryworkshop
Twitter: @Unit1_Gallery
Facebook: @unit1galleryworkshop
#unit1galleryworkshop
Fair Art Fair, a new app-based digital platform that facilitates relationships between everyone interested in Art in a confident transparent environment. Whoever you Art you will find a place to explore and discover, buy and sell, organise and document, communicate and be supported. Download the app here.
⁠