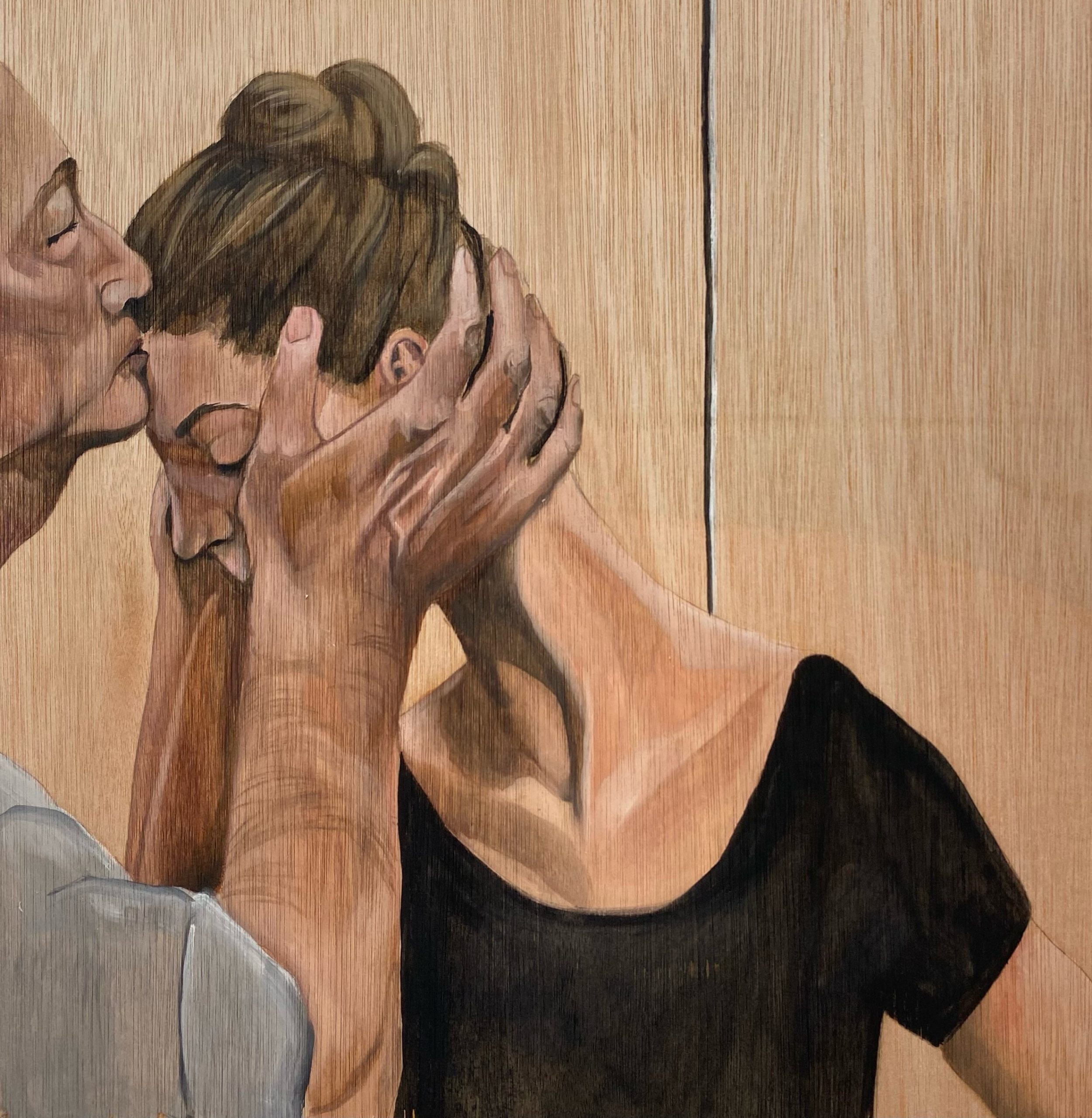 Take My Hand
Grace Tobin
Ioana Maria Sisea
Lorena Levi
Marie Obegi
Morag Caister
Olivia Strange
Penelope Kupfer
Curated by: Charlotte Leseberg Smith
Exhibition dates:
Private view: June 29th, 6-9pm, 2023
June 30th – July 29th, 2023

Unit 1 Gallery | Workshop is delighted to announce another curatorial partnership. Director Stacie McCormick and Charlotte Leseberg Smith have been in conversation over the past couple years regarding their shared desire to champion, support and empower artists through new models. It made perfect sense to feature Charlotte as a guest curator with her exhibition.
Clasped in prayer, scrunched in pain, reaching out in search of pleasure, and itching in promise, hands speak. 'TAKE MY HAND' explores how hands are the ultimate
communicator and connector – symbols of pain, pleasure, promise and prayer. We see them as taking care of that which is left unspoken, a true portrait of what its owner is feeling. The exhibition features work that explore childhood, sexual pleasure, community and longing through their representation of hands, the ever useful, ever present tools of practicality and expression.
Quote from the curator, Charlotte Leseberg Smith:
'I became obsessed with hands, as portals of the body to the outside world, as things to give and take-away and most importantly to hold, to grasp. I think I really wanted something to hold on to. Looking at how artists' unpick and illustrate hands, I wanted to look further as to how they were the artists' symbol of communication in the work they were making. What could hands tell us that the rest could not? How do we hold and share things in our own hands that are precious to us.'
Quote from the Founder of Unit 1 Gallery | Workshop Stacie McCormick:
"I am excited to work to collaborate with Charlotte and see her curatorial concept come to life here in the gallery. Hands are the unsung labourers of our lives, diligently the conductors of our creative desires – an artists works are celebrated, the makers our flesh bound collaborator deserve credit and admiration."
About Charlotte Leseberg Smith:
Charlotte Leseberg Smith, is a curator and creative consultant, and founder of LEEZ + SMITH. Having extensive experience in artist and institutional project management at an international art fund and co-founded theVOV on Vortic Art featuring 15 major UK institutions including Tate Britain, Hayward Gallery and The Showroom, Charlotte then went on to head up creative consultancy LEEZ + SMITH.
LEEZ + SMITH is focused on championing under-represented artists and creatives through exhibitions, and specialist curation, in addition to providing artistic solutions and creative collaboration to brands.
About Unit 1 Gallery | Workshop and the Workshop Foundation:
Unit 1 Gallery | Workshop is an exhibition and residency space in London and unique in its approach to bringing artists and their practices to the public. They support a diverse range of emerging and mid-career contemporary artists by providing them with space and time to develop their practice, network within our growing community, be mentored by team members and crucially be introduced to their expansive network of collectors, art educators, professionals and visitors.
Through their residency programmes and exhibitions, they give artists, curators and theorists a platform to present work and share ideas as well as creating an environment for freethinking and exchange.
They have now organised more than 40 exhibitions with over 120 artists and curators, with 10 exhibitions and 25 artists in residence a year, drawing in international audiences and participants, as well as being a local landmark in the community of Kensington and Chelsea and its surrounds.
Unit 1 Gallery | Workshop was founded in 2015 by artist Stacie McCormick in a former builder's merchant.
DETAILS
Contact: +44 (0)75 4831 5800 | info@unit1gallery-workshop.com
Website: www.unit1gallery-workshop.com
Instagram: @unit1galleryworkshop
Twitter: @Unit1_Gallery
Facebook: @unit1galleryworkshop
#unit1galleryworkshop
Fair Art Fair, a new app-based digital platform that facilitates relationships between everyone interested in Art in a confident transparent environment. Whoever you Art you will find a place to explore and discover, buy and sell, organise and document, communicate and be supported. Download the app here.
⁠