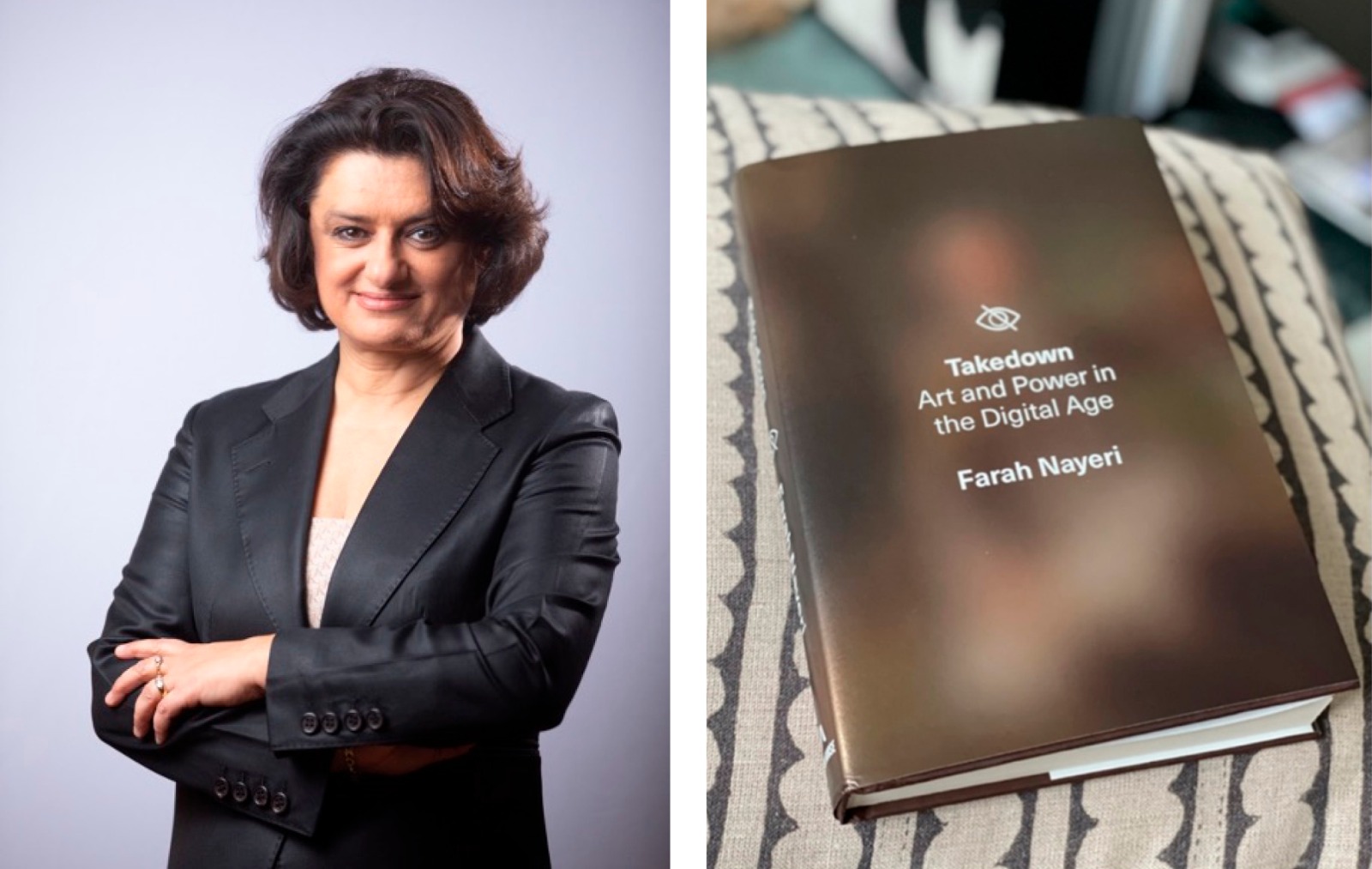 Takedown: Art and Power in the Digital Age
Book Event
Event date:  Wednesday, 2 February, 7-8PM
Unit 1 Gallery | Workshop is delighted to announce that Farah Nayeri, New York Times journalist, author, musician, speaker & podcaster (CultureBlast) will be in conversation with director Stacie McCormick to discuss her new book
Takedown: Art and Power in the Digital Age
Join us at the gallery Wednesday, 2 February 7-8 pm. The event will also be broadcast live on Instagram @unit1galleryworshop.
Of Farah's book, Stacie McCormick says: "This is an invaluable read. The art world as we know it is experiencing seismic changes that seem long overdue as well as inevitable. Thanks to her lifelong relationship with the world of art and her rigorous understanding of historic power structures, Farah explores and explains the dynamics of the contemporary art world in an intelligent and approachable way."
In Takedown, Farah Nayeri addresses the difficult questions plaguing the art world, from the bad habits of Old Masters to the current grappling with identity politics.
For centuries, art censorship has been a top-down phenomenon–kings, popes, and one-party states decided what was considered obscene, blasphemous, or politically deviant in art.
Today, censorship can also happen from the bottom-up, thanks to calls to action from organizers and social media campaigns. Artists and artworks are routinely taken to task for their insensitivity. In this new world order, artists, critics, philanthropist, galleries and museums alike are recalibrating their efforts to increase the visibility of marginalized voices and respond to the people's demands for better ethics in art.
But what should we, the people, do with this newfound power?
Featuring exclusive interviews with Nan Goldin, Sam Durant, Faith Ringgold, and others, Nayeri tackles wide-ranging issues including sex, religion, gender, ethics, animal rights, and race.
By asking and answering questions such as: Who gets to make art and who owns it? How do we correct the inequities of the past? What does authenticity, exploitation, and appropriation mean in art? Takedown provides the necessary tools to navigate the art world.
Praise from Ai Weiwei:
Farah Nayeri's Takedown, about art and power in the digital age, is a timely book that is uniquely brilliant. The author, backed up by facts, maps out the crazy madness of our current art world which to a great degree reflects today's extreme capitalism. In a clear and succinct manner, she unravels the giant game of power, money, and competition ingrained in cultural institutions, where issues of individual freedom, gender and religion are at play. The book is easy to read, interesting, and observant. In its conclusion, the author quotes Alice Procter's answer to the question of how soon a changing of the guard in the art world will happen, 'I think some people have to die' – a fittingly controversial language.
About the author:
Farah Nayeri is an arts and culture writer for the New York Times and host of the CultureBlast podcast. Originally from Iran, she lives and works in London. Nayeri began her journalism career in Paris as a reporter for Time magazine and a contributor to The Wall Street Journal. She later became a correspondent of Bloomberg in Paris, Rome, and London, covering politics and economics, then culture. Nayeri is a public speaker and panel moderator, regularly chairing conferences for the New York Times and for institutions in Europe. She is a classically trained pianist and a devotee of flamenco dance.