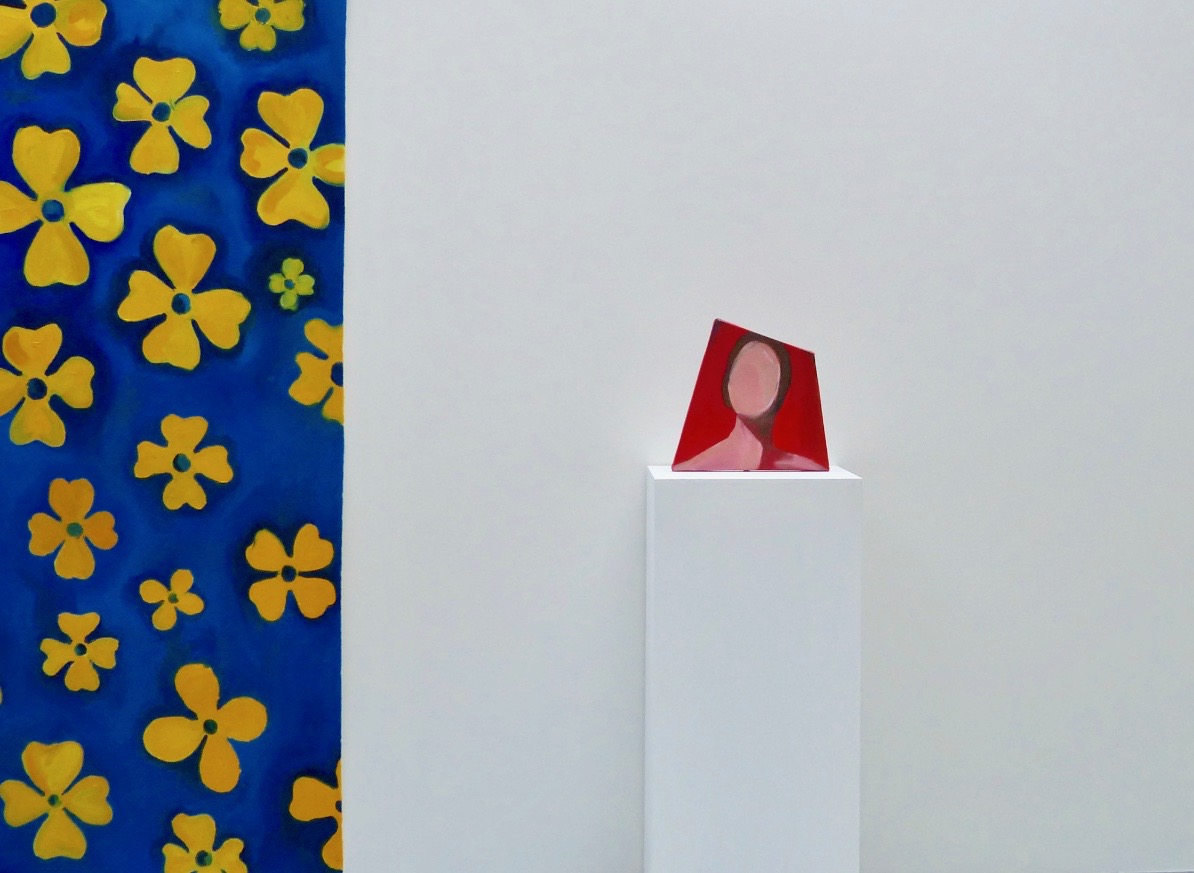 This Space is Occupied
Rebecca Byrne and Wendy Saunders
11th – 25th January 2017
An exhibition of paintings by Rebecca Byrne and Wendy Saunders, This Space is Occupied weaves together their common interests with work that provokes response through a play of presence and absence, representation and abstraction.
An externalization of an interior space, Byrne's work presents a fractured, obscured narrative for the viewer to explore.  She occupies the work in the space left empty, the information not revealed. Exploring Roland Barthes' writing on 'the third reading', Byrne aims to foster a flickering sensation at the edge of the viewer's mind, an oddness which distracts the viewer from the obvious elements of a work and opens the possibility of counter-narratives.
Saunders' paintings are of female faces in close up; using the presence and absence of features but with the explicit intention of provoking a deeper intuitive response that goes beyond simple interpretation. Her newer work seeks out elements of abstraction; partially stripping back figures to the underlying shapes, the paintings are a contrasting mix of strong forms and unstated figuration.  Faces stare out – made with striking use of thick colour and bold painted line in an attempt to convey the tricky and largely undefinable nature of expression, mood and person.
Speculating in paint, teasing out results from the material, both artists pursue mark making to their own ends.
Rebecca Byrne completed her MA at Chelsea College of Art and Design in 2012; recent exhibitions and projects include Paper Cuts, Transition Gallery, London, UK; Dentons Art Prize Autumn/Winter 2016, London, UK; Platform Projects @ Art Athina 2016, LUBOMIROV / ANGUS-HUGHES Athens, Greece; Summer Salon 2016, LUBOMIROV / ANGUS-HUGHES, London, UK; Pool, Griffin Gallery, London, UK. Upcoming Artist Residency at The Van Gogh Huis Museum, NE.
Wendy Saunders is an Australian born painter and curator living and working in London. Recent exhibitions and projects in 2016 include ; 30x30x34 The Crypt, London, ING Discerning Eye Mall Galleries, London; Slippery & Amorphous painting exhibition in London & New York; LOOKING UP Studio 1.1 London; Contemporary British Painting Summer Exhibition, The West Gallery, Quay Arts, Isle of Wight, Summer Salon Lubomirov / Angus-Hughes Gallery, Undead Painters Flash Salon II, ASC Studios, London; Royal Academy Summer Exhibition, London; Spring Has Come 2016-FUKUBUKURO Sanshung Museum of Contemporary Art, China.